Turkmenistan is 1.3 times bigger than Japan, but mostly covered by desert called Gara Gum. This is desert but there were grass and small bushes on sands. The view didn't change much.
トルクメニスタンは日本の1.3倍の国土にしてほとんどがガラグム砂漠に覆われている。砂漠と言っても乾いた木のような草のようなものが生えていて、永遠と同じ光景が続く。
Like the way to Bukhara from Dushanbe, I got a wind from North West which really helped me to cycle. I cycled average 20km/h everyday.
ドゥシャンべからブハラに向かう際もそうだったが、この時期、北西の風がメインのようで、南西に向かうのには良い追い風となって時速20キロ以上で毎日進んだ。
Bike ride in desert is not really enjoyable but there were some I can enjoy. One is beautiful sun-set and sun-rise. Second is beautiful stars. Third is really sweet watermelons. I thought that the watermelon here is better than other central Asia's melon.
砂漠走行って暑いし、つまらないが良い事もある。まず朝日・夕日が綺麗、2つ目は星が綺麗。そして何よりスイカが美味い。中央アジアはスイカがそこら中に売ってるが、ウズベキとトルクメのスイカは特に美味い?ような気がした。
A guy selling melons. His cloth was like watermelon.
道中会ったスイカ売りの兄さん。迷彩服がスイカ意識。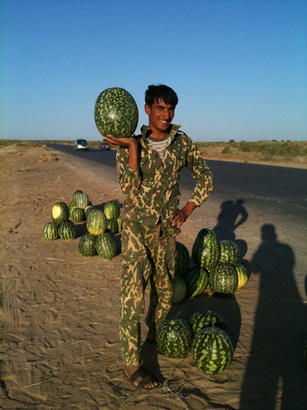 Nice to have a dinner with full of stars on the sky.
満天の星を見ながらの夕飯は格別です。
Then, finally I cycled all the way on the desert. It took me 4.5 days.
そんでもってあっという間に5日間が過ぎ最終日。結局4日でほとんどの工程を走りきった。
This was also my last day of central Asia. I stayed this part for 3.5 month total. Until the end of central asia, i didn't change what I thought at the beginning; people in this part of world was very nice. Also, until the end, I didn't enjoy food.... Overall, I had a lot of good experience without serious problems. I enjoyed a lot...
3ヶ月半いた中央アジアともこれでお別れ。中国からカザフスタンに入ってまず感じた「人の良さ」や「飯のマズさ」は最後まで変わる事はなかった。心配していた悪役人とのトラブルや、深刻なビザのトラブル等々、特筆する問題もなく来れて本当良かった。
It's getting fall. The daylight became shorter and shorter. There were clouds on the sky that I haven't seen long time. It's almost 1year anniversary and also reaches 20000km.
季節はもう秋、日も大分短くなって、空には高~い雲。そしてもうそろそろ旅立って1年が経つ。走行距離もあとわずかで2万キロだが、まだ先は長い。一事が万事、気を緩めず進みましょう。
Got inside before 8am; actually the border opens 8am. I think it was because I was tourist. In the Uzbek custom, I didn't get my baggages checked like before. Even they didn't ask me registration forms that they were supposed to ask all tourists. Then I moved to Turkmen custom, they didn't check anything as well. So I didn't have any troubles so got cross the border successfully.
実際中に入れたのは8時前で、観光客という理由だと思うが先に手続きさせてくれた。ウズベキサイドでの荷物検査は全くなく、レギ確認も全く無し。しかも、トルクメニスタンサイドの税関でも簡単な荷物検査のみで、かなり簡単にスルーできた。というわけで無事にトルクメニスタン入りを果たす。
I have a 5 days transit visa. The distance to the border of Iran is about 470km. The most of the way is all desert. I need to check my water carefully.
トルクメニスタンで許された滞在期間は5日間、そしてウズベキスタン国境からイラン国境までが最短470km。ほぼ全ての工程が砂漠。大分涼しくはなったが、水のやりくりは気をつけたい。
At first impression of Turkmenistan was that there were a lot of Toyota running. I thought that the life here was easier than other central Asia countries. Actually, they have rich natural resource like gas and oil. They have propane gas for free.
まず走ってすぐに気付くのが、トヨタ車が他の中央アジア諸国より多い。やはり天然ガスで潤ってのか、生活はやや裕福なのか? 実際ガス代はタダらしい。
The first big town, Turkmena Bat. As I do every time when I got into new country, I went to a bazar to find a sticker. There were many people came to ask where I was from.
国境を越えて最初の大きな街、トルクメナバット。恒例のステッカー探しで、自転車ごとバザールに突入。いやいや、何人に話しかけられたかわからない。みんな興味津々。
I have some souvenirs like pin-batch and flag for free. People just gave to me. Seemed they were so excited to see a random Japanese cyclist.
何かいろんな物もらった。ステッカー探してんのに、バッチだとか国旗だとか。一応最後にはステッカーも探し当てた。これもタダでもらった。何かトルクメ人は良い人が多そうだ。というか、観光客がいないから、観光客を見つけると親切にしたくなるんだろうね。
I got a sticker eventually and also prepare for next few days riding. Now ready to cross the desert !!
ステッカーだけじゃなくて、この先しばらくの物質も買い込み準備完了。さぁこれからイランに向けて砂漠をブチ抜きますよぉ~