It had been cloudy or raining for long so nice to see a blue sky here. Along the black sea, the temperature is much warmer than inland. I was surprised that there were banana-trees in a yards.
久々に見る雲一つない青空。気持ちいぃ~ 黒海沿岸はすごく暖かくて、庭先にバナナの木なんかが植わっててビックリ。あぁ~暖かいって何て良いんだろ。
From here, ferris go to Ukraine, Russia and Turkey.
ここからウクライナやロシア、トルコへ船が出てる。
There were a nice bike pass along the coast.
バイク用の道が整備されてて、黒海沿岸を走れる。かなり気持ちいい
I found that the mountains I passed through got snow. I was lucky that I could go though that area just right before snow dumped.
通って来た山々が昨日までの雨で見事に雪化粧。あと2日くらい峠越えが遅れてたら、雪の中を自転車押すか、クタイシ方向に遠回りしなければならなかったかもしれない。今考えたら、ギリギリで峠越えできたっぽい
From tomorrow, I will be in Turkey!!
さぁ 明日からトルコだーー
Southern Georgia was unexpectedly very nice place to cycle. Mountains were not high but the contrast of mountains, old temples and villages were very nice.
グルジアの南部って思ってた以上に楽しいですね。山はそんなに高くないけど、遺跡と山と集落のコントラストがなかなか良い雰囲気ですね。
The best thing was that people were very nice and welcoming. I had been invited for 2 nights in 4 nights.
それ以上に人が良かったな。たった4日のうちに2日間もホームステイさせて頂きました。
I couldn't find a spot to camp until just right before sun-set. Then this family rescued me. Their village, Bodzauri was pretty relaxing.
野宿スポットが見付からず、真っ暗になる寸前に招いて頂いた家族。このBodzauri っていう山の中にある集落、すごくのどかで癒されます。
A boy of this house, Nicor, he suddenly asked me "do you have anybody you like". Then we talked about why he asked me about it. He said he had a girl he really like in his class with 6 people. I hope he told her what he think.
家の子、ニコール。寝る前「好きな人はいるか?」と唐突に言われびっくりして、話を聞いてみると、何々クラスメイトが6人で、その中に大好きな女の子がいるんだと。何か話を聞いていて、すごく癒されました。頑張って告白してほしいな。頑張れーー
At a temple, Zarzma, monks invited me to have a lunch. I could have a lot of meal even wine. What a nice temple!!
Zarzmaという寺院にて。見学中に僧侶に飯を食ってけと誘われ、たらふく飲み食いさせて頂きました。しかもワインまで。最高っす。
The last pass in Asia.
アジア最後の峠越え。なんだか感慨深かったです。
A castle wall.
道中あった城跡
Vardzia, this has been built during 12th century. There were 5 million people living here before, but I doubted.
Vardzia 遺跡。12世紀の修道院跡。かつては5万人も人が住んでいたらしいが、そんなでかいか?
A train crossing a river.
川に架かる電車。
In Batumi, I stayed at a family I met the passed for a night. In some reason, I moved to a guest house now. Turkey is coming soon, only 14km from here.
バトゥミでは峠越えした時に会ったグルジア人の家に1日だけ世話になって、訳あって2日目からゲストハウスに移動。ここ出たら14kmでアジア最後のトルコです。
It was my 31st birthday. I was expecting something fun, but nothing happened. However, I crossed a border of Georgia.
31回目の誕生日。今年はどんな事が起こるかと思ってたけど、特に何もなく、あえて言うならグルジアに入国致しました。
Last year, I stayed at a police office in Sumatra, and next day, 30th birthday, I got invited to stay at a local family. It was pretty nice experience.
去年はスマトラの警察署で夜を明かして、翌日は親切な人の家でホームステイしたっけ~ あぁ懐かしい。スマトラ暑かったなぁ~
Since I left Yerevan, it's been raining and cold. Seems here already winter.. I hate to get my tent wet and bike muddy...
一転、グルジアはもう冬ですね。イェレバンを出発した3日前から雨ですね。寒い~ テント濡れるの嫌だ~ 自転車ドロドロ~
Picking up quite frustration, so I decided to stay at a hotel in Akhalkalaki. I asked couple of people and found a cheapest economy hotel which cost me $10. However, a woman working here was not nice, and she asked me $3 for cold shower. There was no inside toilet only outhouse... This was unforgettable shitty birthday...
何か最低(ーー;) ふてくされて見付けたAkhalkalakiにある安宿は $10も払ったのに、従業員のオバさんは親切じゃないし、シャワー$3 とかふざけた事言われるし、トイレ外のボットンだし。。。なんか散々。ある意味記憶に残る誕生日になったかな(ーー;)
The border I crossed. This border was really small, but processing was quite smooth so took only 20min to get all done.
グルジア国境。かなりこじんまりしてる国境でした。出入国もかなりスムーズで20分くらいで一連の作業終了。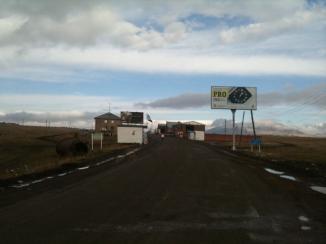 To be honest, I wanted to go up north west of Georgia, a mountains area. However, it's too late to go because it would be very very cold there. This time, I need to give up. Instead , I am going to by the black sea as soon as possible...
本当なら北部の大カフカス方面を楽しみに行きたいのだけど、もう寒くて北西部は無理だと判断し、さっさと黒海に抜ける事にしました。