Eating Pho noodle almost every meals. Even It takes a bit of time to find other dishes.
いやいや、ほぼ毎食フォー食べてます。ってかそれ以外を見つけにくい。
My body stiffness caused by cycling off road in southern Laos is getting better. Also my left calf got better, so I will start paddling again from tomorrow
ラオスのオフロードでカヂガチになった身体もほぐれ、左ふくらはぎも大分良くなった事だし、明日からまた走ろうと思う。
Now, I'm in here, in a blue point, Po Chang, a small town.
今は地図の青い点の場所にある、ポチャンっていう小さな街。
In 4 days, I will cross a border of Laos again where I put an arrow, Nam Can.
4日くらいで矢印してあるラオス国境Nam Canからラオスに再入国予定。
There will be a lot of mountains on the way next two or three months which I like. This area is like a main dish of cycling east Asia for me.
さあ、これから2・3ヶ月は大好きな山岳地達だ~
東アジア編メインデッシュです。
I haven't checked the rate of Lao Kip and Vietnam Don so checked today. Then I was surprised.

久々にネットがつながる場所に来たから、ラオスのキープやベトナムのドンのレート見てみてビックリ。


In 2007

Kip 81K=1yen
Don 135D=1yen




2007年時

キープ 81k=1円
ドン 135D=1円



Now

96K=1yen
266D=1yen



今

96k=1円
266D=1円





I thought my hotel where I stay right now is about 1000yen so it is expensive but only cost me about 500yen....

今の宿、約1000円くらいすると思ってたら500円ちょっとだったみたい。




Happy surprising!!
嬉しビックリ





I regret that I have been thinking price in Vietnam is very high for last 4 days...

あ~ここ4日間ベトナムは高いな~って思っていたのはなんだったんだ。
I've been on this problem since cycling Cambodia. I got about 12 pus on my left calf and those were getting very painful last few days. I think those were caused by strong sun light since I almost always cycling to the north; my calf was always exposed sun light during day time.
というのも、カンボジア後半くらいから左足ふくらはぎにでき物が合計12箇所くらいできて、そこから膿が出てきて痛くて仕方ない。多分、北に向かって毎日走ってるから、直射日光に晒しすぎて肌がただれてしまったんではないかと思う。
I thought I should better go to hospital and show it to a doctor before getting back into Laos which is more un-convenient.
最近その痛みが日を追うごとに激しくなってきて、不便なラオスに再度入る前に大事をとってベトナムで医師に見てもらう事にした。
The way I go on along very remote area but finally I reached a proper town, Po Chau, where a hospital is.
といっても、今進んでる道のりはラオス国境沿いで不便は不便。今日、まともな病院がある町ポチャウまでやっと来た。
There was no English at all in the hospital and all Viet.
病院に行くと英語表記は全くなく全てベトナム語。チンプンカンプン。
I asked people where I should go and got to a surgical room. There were a nurse and a doctor so I show my calf. Then they just said "don't know what those are...."
人に聞きながら何とか外科らしき場所にたどり着く。そこには女性看護師と医者がいて、さっそく足を見せる。と、わからないの一言。ものの数秒。
I said "so....what??"
じゃ、どおすればいいの?
I tried them to do something but they just said "don't know so we don't know what to do... "
何とかしてくれと言っても、わからないから何もできないと言われる。
What a fuck Viet medical care was... I said "Fuck!!" because I thought I won't know and left there.
ヤブ医者にもほどがある。どうせわからないだろうから、ファック!と吐き捨てその場を去った。
I really need a doctor still. Then i found out a small clinic on the way back and went ask them like asking a god.
でも、痛いから何とかしたい。こんな時に、帰り道に小さな診療所を見付け、神にすがる思いで立ち寄ってみた。
Finally I got treated by watching all bad infected area and medicine that reduce my pain and pus. It costs me only $6 so no need to apply my insurance. Even they won't understand English writing if I ask.
ここでやっとまともに見てもらう事ができ、膿を全部綺麗にしてもらって痛み止めや膿を抑える薬なんかを処方してもらった。診察代は600円くらい。保険申請するほどでもないか。多分紙を出しても英語読めないだろうし。
Anyway, I hope my calf get better. I know now that a hospital is not defined by their size..
とにもかくにもこれで痛みが無くなると良いが。
いやいや病院は大きさじゃないね。
I unexpectedly crossed a border of Vietnam.
思いもよらずベトナム国境を越えてしまった。
I was supposed to stay somewhere before Vietnam border and get ready to be into it.
ラオス、センパン村を出た後は、国境手前で休息して、気持ちを切り替えてからベトナム側のチャーロに入りたかった。
Its because I couldn't find any place to stay. Also had enough energy and time, so I just crossed and am now in Vietnam.
国境手前には宿や寺もないし、時間と体力にも余裕があったから、勢い良くベトナム入り致しました。
It's very nice mountain cycling and took me 3 hours to reach a pass. There was a small Lao gate before the pass.
ベトナム国境迄は景色が素晴らしい山路を3時間程登り、峠手前に差し掛かるとこれまた頼りないラオスのゲートが現れる。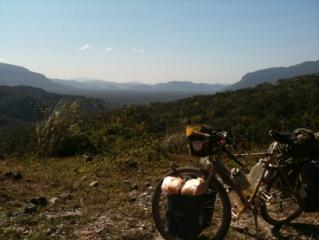 Did departure process and cycled cross the pass. There was a monument of the border.
出国手続きを済ませて峠を越える場所には国境の印がされてた。
After that there were big and fancy Vietnam's gate that shows economy gap of between those countries.
そこから少し下るとベトナムゲート。こっち側は綺麗なビルが並んでいて、経済格差が伺い知れる。
Did arrival process and stopped by a restaurant. In there, I really enjoyed food which I was waiting for long time.
入国済ませて近くのレストランに入った。ここで久々のまともな料理を食べる事ができた。
Since I had Japanese food in Siem Reap at Japanese guest house, I couldn't have anything nice except a rice ball that Gradma Kiumapharn made for me.
カンボジアの日本人宿で日本食を食べてからというもの、これといって美味い飯はなかった(キウマパーンお婆ちゃんのオニギリは別として)
It cost only about $1. That price would give me only rice and cooked eggs in the village where I went through in Lao.
しかも15000ドン(約100円)。ラオスの自分の通ってきた村々で、同じ値段なら餅米と卵焼きくらいしか食べられない値段。
That day, I cycled 30km and found a guest house which cost me about $10; it was expensive for me.
この日は山を30キロ程下った村のゲストハウス(高いが150000ドン)にチェックイン。
In Vietnam side, it's cloudy and very cold during night and morning. This is the time I dig out my winter cloth I haven't used long time.
ベトナム側はどんよりしていて朝晩はかなり寒い。やっと今まで持て余していた冬着の出番が来たようだ。