In Christmas, I arrived to Ranong where a ferry going to Burma is. When I was looking for a place to stay, I met a korean cyclist. Since I was supposed to take days off in an island, I asked him to go with. He is not really in rush on his schedule so we decided to go together.
今日はクリスマス、ラノーンというミャンマー行きのフェリーが出る街まで来ました。
明日からしばらく島で休息を取るつもりで、一晩だけ泊まる宿を街中で探してると、韓国人サイクリストのジョンミンと遭遇。いろいろ話は進み、一緒に島に行く事に。
An island we picked was Payang island that is 2 hours from the port of Ranong.
選んだのは、ボートで2時間の場所にあるパヤン島。
In next morning, we went to a port. The port that is located 5 km from the town was really small. The cost was 150B for a person and 50B for a bicycle.
翌朝、街から5キロ離れた場所にある港へ。港はかなりこじんまり。大人一人150バーツ。自転車は50。
After couple of hours taking a small jetty, we arrived this island. There are very quiet and no cars running.
小さなボートで2時間、島に到着。島には車は走ってなくて、とてもおちついた雰囲気。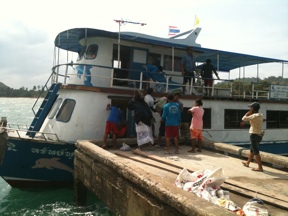 Beach was not extremely beautiful but very nicely quiet; not packed by westerners.
海は感動するほどの綺麗さではないが、欧米人で埋め尽くされてる他の島々に比べれば、とてもゆったりとしてて良い感じ。
We cycled few and found a very nice spot to camp.
数キロ島の中を走って、キャンプにちょうど良い場所を発見。
This is the place for us to take some breaks.
ここが今回の休息場所。
We met a backpackers, Enbrem, from Turkey on the ferry, and he joined us.
トルコ人バックパッカーのエンブレムとフェリーで出会い、彼も一緒にキャンプする事に。
There are many activities to do around here; fishing, correcting shells and swimming. Also there are nice spring nearby that we can correct drinking water.
とても良いロケーションで、海水浴はもちろん、釣りや、貝拾いも楽しめる。近くに水が湧き出てて、飲み水も確保可能。
A seafood soup with shells and a crab that I caught in this beach.
ビーチで採ったカニや貝で作った海鮮汁。
After doing some activities, drinking under the beautiful sun set. I remember that I had a nice birthday with nice sun set with nice people. I might see nice sun set in new year.
一通り海辺で楽しんだ後は、友人達と夕日を見ながら一杯。誕生日も同じようはシチュエーションだった。もしかしたら、新年も綺麗な夕日を見ながら過ごすかもしれない。