After staying at a temple in Sisophon, I took north to Banteay Chhumar Temple. It was 70km oneway side trip on the way to Siem Reap.
シソポンのお寺で一泊した後、進路を北に取った。向かうはバンテアイチュマール遺跡。片道70キロの寄り道。
The road was very rough, sandy and very dusty. My bicycle and myself got totally dust out.
道は、ボコボコ、砂砂、ホコリだらけ、おかげで着くまでには自転車、自分自身ホコリまみれになった。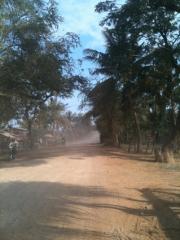 On the way, I saw many cars with people on the min-clearance operations. Seems still many work to do these area.
道中、地雷撤去作業員を乗せた車両と何回もすれちがった。おそらくまだこの地域には沢山埋まっているんだろう。
After cycling such a dusty road for 5 hours, I arrived to Banteay Chhumar.
ホコリまみれになりながらも、5時間かけてバンテアイチュマールに到着。
When I first looked at the google map to find this place, i found a strange shape on the map. I didn't think too much of it at that time. Now, I know what that was when I got there.
最初、GoogleMAPでバンテアイチュマールを調べた時、変な形を地図上で見つけたけど、その時はあまり深くは考えなかった。到着した今、ようやくその形の意味がわかった。
This temple is surrounded by huge moat which is about 400 square meters. The main temple is in the center land. I couldn't see it covered by thick vegetation.
この遺跡は、1辺だいたい400mくらいのお堀で囲まれていて、本殿自体はその中の島に位置しているようだ。ただ、うっそうと木が生い茂っていて、本殿は見る事はできない。
I was very very excited by only seeing such huge structure, so how I will be after seeing inside.
この外側だけ見ただけでも本当大興奮。内側見たらどうなってしまうのだろうか。。
At that time, it was already 3pm, so I left main parts for tomorrow and looked around village. Then I found that there are many small temples in this area; I saw some sines of temples in this village.
もう3時くらいだったのでメインは明日にお預けして、村を散策。すると、村の中に沢山の遺跡が点在している事に気づく。
I visited couple of them. Seems those are totally untouched, so I needed to go through thick bushes. I felt like I'm a Indiana Johns. There are many plants that have spikes so very painful to go through. I really recommend to have long sleeve shirts and long pants if you come.
まだ明るかったので、いくつか行ってみる事に。何も手を付けられていないようで、全く草に埋れてしまっている。なので、見るには草むらを分け入る感じ。ただこの草、トゲだらけで本当痛い。行くなら長袖長ズボンをオススメします。遺跡探しをしている時は、まったくインディージョーンズになった気分。
Those temples have been collapsed, so I couldn't see full picture of those. However, those collapsed temples covered by thick bushes made atmosphere of long long time flow, so I was very very fascinated.
2箇所行ったが、双方ともだいぶ崩れていて、草木に覆われていた。ただ、この崩れた寺院を草木がおおっている光景が何とも、永久の時を感じさせていて、とても神秘的。
On the way to other small temples, I had a good encountering.
次の寺院を見に行こうとしていた時、とても良い出会いがあった。
To be continued.
続く