Finally, I left Siem Reap. As always I didn't like staying in a big city. However, meeting many interesting Japanese made my stay funner.
シェムリアップともようやくお別れできた。街はやっぱり嫌いだけど、濃い出会いがなかなか多くて、とても有意義な時間であった。
The owner of this guest house who i had couple of arguments gave me a bottle of water at the end. It's nice of her.
2回もケンカしたタケオの母ちゃんも、水の差し入れなんかしてくれて、気持ち良く出発する事ができた。
It's very nice to cycle country side of Cambodia. There are many people waving hands and say hello. It reminds me cycling in Indonesia.
しかし、カンボジアの田舎は本当に人が良い。観光客すれしてないし、そこらじゅいから「Hello!!」が聞こえてくる。インドネシアに良く似た雰囲気。休憩すると子供達なんかが寄って来て、不思議そうな顔で見つめられる。これもインドネシアで良くあった光景。
Drunk with rice farmers at lunch.
昼から米農家の兄さん達と酒を飲む。
At the first day of after I left Siem Reap. I stopped at the gate of Beng Mealea Temple and camped out. This gate was 24h open and very nice bathroom right by. I heard that some cyclist camped there before so decided to do so.
シェムリアップから出発して初日、ベンメリアチケットゲートの脇でキャンプさせてもらった。24時間オープンのゲートなので安全、だと思う。しかもめちゃくちゃ綺麗なトイレ付き。良くサイクリストが野宿してるらしい。
Next morning, I visited Beng Mealea before sun rise, so there were absolutely no people.
翌日、遺跡に6時過ぎに着いた事もあって誰もいなかった。前日にチケット($5)は買ってあったから、ズルはしてません。
It's very fascinating the temple with sun-rise.
朝日の中見て周る遺跡はとても神秘的で良かった。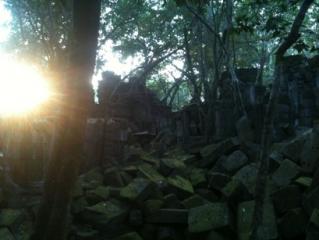 After checking temple, headed north to Kor Ker Temple. The road was partly sealed. A car makes a big dust but not much car running; only 2•3 cars in one hour.
その後北上し、コーケーへ。道はスムーズなダート。走り易いが、車が通るとホコリがすごい。ただ、車はほとんど通らず、1時間に2・3台といった感じ。
At Kor Ker village, I paid $2 and camped out at the guest house.
その日、コーケー手前のゲストハウスで2ドル払ってキャンプさせてもらった。
After 3 days from Siem Reap, visited Kor Ker Temple. Kor Ker was old ancient capital, so there are many temples in this area.
シェムリアップ出発3日目、コーケーに立寄る。ここは1100年前の古都で60以上も遺跡がある。森に覆われてる遺跡群は何ともさみしげ。
Since it's pretty far from town, I didn't see any tourists while I was checking around.
やっぱり街から遠いこともあって、見て周っている間は全く観光客は見なかった。
Again, heading north.
再び北へ向かう
To be continued