20km from Kor Ker, I arrived a small village, Kulen and found a guest house. I missed a bed and the price for one night was 20000 Real(about $4), so I checked in.
コーケーから東に20キロくらい走った場所のクーレンという小さな村でこじんまりとしたゲストハウスを見つけ、久々にベッドで寝たかったし、値段も20000リエル(400円くらい)だったんでチェクインした。
A women working here is not speaking English but has nice smiling. Every time when she smiles, i saw all her teeth blacked. Seems women here chew up plants as tooth paste.
宿のママは英語はしゃべらないが、ニコニコして感じ良い。ただ、ニコッとした歯が真っ黒。こっちの女の人、何やら歯磨き代わりに歯が黒くなるような草をクチャクチャしている。初対面で葉が真っ黒だとびっくりするわ。
There was a Karaoke nearby this guest house, and that sound was very very laud. I don't understand why people in this village stop them. I hope they stop them before somebody die.
近くにカラオケがあるようで、村中に聞こえるくらいの大爆音で音を流してる。村の人は何も言わないのだろうか。健康障害で死者が出る前に、カラオケ店を閉鎖させるべきだね。
Next day, i was supposed to go north and visit Preah vihear but headed east ; After seeing many temples, I start feeling that it's enough to see ancient temple.
翌日、さらに北へ向かい、プレアビヒア遺跡に行く、つもりだったが、コーケーを見てから何となく遺跡を見るのはお腹いっぱいになっていたから、そのまま東へ進んだ。
The local road that I took is not on Google map but only my map that I bought in Bangkok.
道はGoogleに出ていないローカル道路で、バンコクで手に入れた自分のマップには載っている。
It's sealed until Preah Vihear City but started dusty unpaved road after that. A section on the way, the road was disappeared right in front of a river, so I took a small boat to cross.
プレアビヒアシティまでは舗装されていたが、そこからずーっと赤土のダート、途中道がなくなり川を小さな小舟で渡ったりした。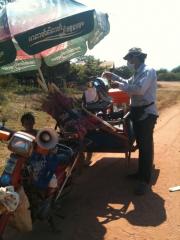 That night, only my choice to sleep was at a police station; I couldn't find a temple. I could ask local to stay at but thought it's a bit risky.
この日の宿は警察署。これしか選択肢はなかった。寺もないし、民泊もなかなか勇気がいる。
To be continued
続く