I unexpectedly crossed a border of Vietnam.
思いもよらずベトナム国境を越えてしまった。
I was supposed to stay somewhere before Vietnam border and get ready to be into it.
ラオス、センパン村を出た後は、国境手前で休息して、気持ちを切り替えてからベトナム側のチャーロに入りたかった。
Its because I couldn't find any place to stay. Also had enough energy and time, so I just crossed and am now in Vietnam.
国境手前には宿や寺もないし、時間と体力にも余裕があったから、勢い良くベトナム入り致しました。
It's very nice mountain cycling and took me 3 hours to reach a pass. There was a small Lao gate before the pass.
ベトナム国境迄は景色が素晴らしい山路を3時間程登り、峠手前に差し掛かるとこれまた頼りないラオスのゲートが現れる。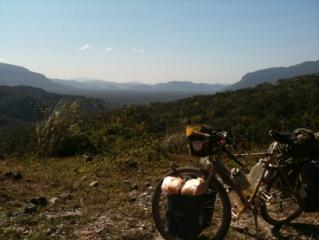 Did departure process and cycled cross the pass. There was a monument of the border.
出国手続きを済ませて峠を越える場所には国境の印がされてた。
After that there were big and fancy Vietnam's gate that shows economy gap of between those countries.
そこから少し下るとベトナムゲート。こっち側は綺麗なビルが並んでいて、経済格差が伺い知れる。
Did arrival process and stopped by a restaurant. In there, I really enjoyed food which I was waiting for long time.
入国済ませて近くのレストランに入った。ここで久々のまともな料理を食べる事ができた。
Since I had Japanese food in Siem Reap at Japanese guest house, I couldn't have anything nice except a rice ball that Gradma Kiumapharn made for me.
カンボジアの日本人宿で日本食を食べてからというもの、これといって美味い飯はなかった(キウマパーンお婆ちゃんのオニギリは別として)
It cost only about $1. That price would give me only rice and cooked eggs in the village where I went through in Lao.
しかも15000ドン(約100円)。ラオスの自分の通ってきた村々で、同じ値段なら餅米と卵焼きくらいしか食べられない値段。
That day, I cycled 30km and found a guest house which cost me about $10; it was expensive for me.
この日は山を30キロ程下った村のゲストハウス(高いが150000ドン)にチェックイン。
In Vietnam side, it's cloudy and very cold during night and morning. This is the time I dig out my winter cloth I haven't used long time.
ベトナム側はどんよりしていて朝晩はかなり寒い。やっと今まで持て余していた冬着の出番が来たようだ。