After passing a mountain from 錐西 city which was in part of Risu tribe area, the place changed to the area to Tibetan.
錐西はリス族のエリアだったが、この街を通り過ぎて山をシャングリラ方向に越えると、チベット族エリア。
Tibetan called Chukei lives in this area. I saw women wearing red and blue cloth, and hat and cloth called Talucho hungging up many places.
この辺りはチュウケイチベット族の生活の場で、赤と青の布を頭に巻いている女性や、通る村々でタルチョを良く見かける。
In north west of Yunnan, there are 3 major river; Mekong, Jinsha, Nujiang, divided by the huge mountain ranges. This area is one of the world heritage site called "Three Parallel Rivers of Yunnan Protected Areas".
雲南省北西部は、メコン川、金沙江、怒江、3つの大河が山を隔てて流れていて、"雲南保護区の三江並流"として世界遺産にも指定されている。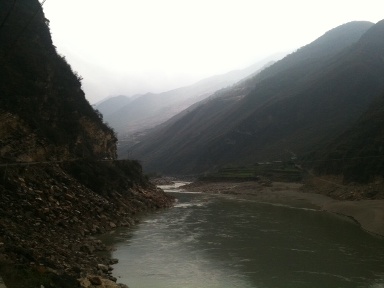 I cycled along Jinsha river (Yangtze river). I think in this area many Tibetian live because the villages along the way were almost all Tibetian village.
シャングリラには金沙江(長江上流)沿いに進んだ。通る村々はチベタン村が多い気がした。
The road was snaking along a huge valley and the view was absolutely gorgeous. I super recommend this road.
道は深い谷をクネクネ進む絶景路。是非お勧めの道路。
I don't know the elevation of this area but it was very cold when I passed mountains.
標高はわからないが、山越えは寒かった。
Today, I stayed in a Tibetan village, called Tacheng.
今日は塔城というチベタンの村で1泊。