I came to Chap Cha, a capital of South Quinghai Tibet prefecture. Now, I am heading west and my distention will be Urumuqi.
海南チベット族自治州の州都、共和(チャプチャ)まで北上し、ここからは進路を西にとり、目指すはウルムチ。
In this town, Chap Cha, there were many Tibetian walking street even though it's quite a big town; majority of people in big towns of China are normally "Han Chinese" I thought.
この町、大きいわりにチベット人が結構多い、怪しげなアクセサリーなんかを路上で売ってたりなんかして、チベット匂が以外と強い町だった。
I met a nice Tibetian family and wanted to stay here longer.
ここでチベタン家族との良い出会いもあったし、休息して出発。
However, I got unexpected encounter with police again and had a trouble so couldn't stay here no longer than a night.
しかし、またしても公安とのトラブルがあり、1泊しか滞在できず。
In this time, they took me three different offices and checked everything I had including photos. Fortunately, I had my camera in my pocket, so they didn't check photos from Shangri La which they might not like.
今回は小さい公安から中くらいの公安、最後は法院まで連れ回され、更には持ち物を調べられ、写真まで全部チェックされた。ゴンバの巡礼なんかした時に使ったカメラ(シャングリラからの写真)はポケットに入れてあったんでチェックされずセーフ。
I really hope this is the last encounter with them and also hope I am not on black list because I had many troubles with them so far.
もう彼等との再会はこれっきりにしたい。なかなか彼等には世話になってるから、ブラックリスト入りしてなければ良いが。
In a town south east of Quinghai lake, I met many Chinese cyclists and cycled with five of them. Lasa is very popular place for Chinese cyclists to go, like many Japanese cyclists going to Soya cape.
青海湖手前では中国サイクリストとの出会いが連続して、計5人で3日程一緒に走った。日本人サイクリストが北海道の宗谷を目指すように、中国人サイクリストはみなラサを目指す。
Quinghai Lake was so blue as the name shows. This is salty lake so can't be drunk. I cycled along this lake three days and couple of days were sunny. Those days were like cycling in a blue world.
青海湖はその名の通り、正に青い海。この湖は塩湖で飲み水にはならないらしい。3日間湖沿いを走ったけど、天気が良かった2日間は、正に青の世界。
Since this area is still in Tibet culture, Tibetian flags were fluttering on the bank of it which was very beautiful.
チベット文化圏ということもあって、湖の畔にもタルチョがはためいて、とても神秘的だ。
But, I'm going out of Tibetian culture area. The number of temple became dramatically small.
ただ、圧倒的にゴンバの数は少なくなった。だんだんチベット文化圏から遠ざかっているのを感じる。
I left the Chinese cyclists in Chaka at a village 100km west of the lake. They were going to Gorumu, and I'm heading to Urumqi.
中国人サイクリスト達とは青海湖を100km程過ぎた場所にある茶卡(チャカ)という場所でお別れ。彼等はゴルムド方向へ。自分はウルムチ方向へそれぞれの道を進む。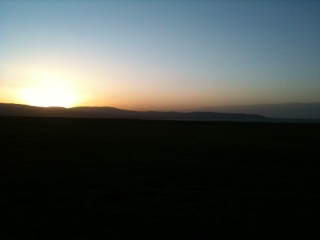 けんたさーん

なんだか公安ってこんなにも
悩ましいのですねぇ。

ウルムチまで、引き続き楽しんでください
ー。応援してます♪───O(≧∇≦)O────♪
[2012/05/04 11:26]| URL | サティ #-[
Edit
] |
Re: タイトルなし
中国の公安はあんま好きじゃなかったよ。やりたい放題。クソの塊だね。もし走る事があるなら気をつけてね。

> けんたさーん
>
> なんだか公安ってこんなにも
> 悩ましいのですねぇ。
>
> ウルムチまで、引き続き楽しんでください
> ー。応援してます♪───O(≧∇≦)O────♪

[2012/06/07 00:58]| URL | acyclist #-[
Edit
] |