The fear of dogs is still continued.
犬の恐怖は続く。
so far, Ive written a lot of about dogs and police lol....
考えたら犬ネタ、公安ネタ多いね
I got used to avoid bad dog and went through many bad place of dogs. But not in this time.
大分追い払うコツはつかんで、何匹もの犬を交わして来たが、今回は通用しなかった。
The whether of Tibet highland changes quick. I was cycling in sun, but suddenly it's changed to snow storm. I found a nomad's home nearby so pushed my bike towered to it to evacuate.
チベット高原の天気はコロコロ変わる。天気だと思ったら急に猛吹雪。雪をしのぐのに、目に止まった遊牧民の家に逃げ込む為、自転車を押している時の事。
I faced on 5 dogs around me. I felt like a baby sheep surrounded by wolves.
犬5匹に囲まれ、正に狼に囲まれた子羊状態。
I thought I would be killed.
絶対絶命のピンチ。
Once I tried to through rocks, other dogs tried to attack me.
石を投げようとすると、後ろの一匹が襲いかかろうとして来る。
In such situation, human made strange voice...
こういう時、人間無意識に変な声が出る。ぅは~
They were getting closer and closer. It's about time to attack.
間隔が狭まり、ヤラレル寸前。
A neighbor came out and helped me, so I survived.
家にいた遊牧民が助けに来てくれ、間一髪その場をしのぐ事ができた。
However, I got another hole on my bag again....
ただ、リアのバックにまたしても穴が(T_T)
In this time, they, nomads who helped me, let me stay their home.
この日は、助けてくれた遊牧民のお宅にお世話になりました。
Really, I recommend for anyone to be prepared for dogs in Tibet.
本当、チベットの犬には気を付けましょう(T_T)
On my way, I think this will be the biggest pass, 4824m, on my way in China. It's between Yushu and Goroku Tibet prefecture.
道中、多分この峠が中国での道中一番デカイでしょう。ユウシュウとゴロク間. 4824m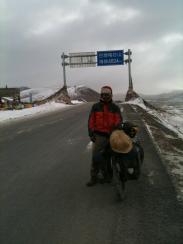 I was stuck in a village due to heavy snow after passing this pass, so waited in a guesthouse until snow storm get died down.
峠を越えた場所にある村で、大雪に見舞われ足止め。吹雪が収まるまで安宿に2連泊。
People here were good looking.
カム·ゴロクはハンサムな奴らが多いね。
Next day of snow storm. On the way to Matu. Everything became White.
吹雪の翌日、吗多(マトゥ)への道中。真っ白