石巻から帰ってまいりました。
Came back from Ishinomaki
前回から約1ヶ月の経過してからの訪問だった為、町が緑に覆われ、見違えるように綺麗になっているのにビックリした。
It's been a month since I visited Ishinomaki last time. I was so surprised how much progress they had.
以前は瓦礫や折り重なった車などがあった。
There used to be a lot of debris on this street
ただ、今回は石巻の雄勝方面の漁具回収・瓦礫撤去・ドブさらいも行き、市街地との復興スピードの格差にがく然とした。まだまだボランティアの数が足りていないらしく、聞くところによると阪神淡路大震災の1/4だそうだ。
受け入れ態勢は整っているし、まだ余震の心配はあるものの、1日から活動できるから、どんどんボランティアに行ってもらいたいものだ。
However, I saw how much help they still need after seeing the Ogatu area which is 1 hour driving to north east from central Ishinomaki city.
I heard that the number of volunteers is much smaller than when we had "The Great Hanshin earthquake"; 4 times smaller.
Today, more easy for people to come and help,even we had a one day option. I hope more people know this situation and decide to come and help.
雄勝方面の長面浦湾という場所で作業に入った。瓦礫の撤去さえできていない。
The placed called "Nagatura", still a lot of work to do....
さて、今回 7月1日~7月13日まで滞在した
最初3日間は、ACCJ(American Camber commerce in Japan)米国商工会の団体と行動し、嬉しくも仙台のホテルに滞在しながら活動をする事ができた。
The first 3 days, I worked with ACCJ and could stay at a hotel in Sendai which was so nice.
作業日1日目のアパート掃除, Cleaning up some rooms in an apartment.
その後、漁具回収のプロジェクトに加わらせてもらい、ひたすらカキ養殖用のロープを回収。現在漁具がぜんぜん手に入らない状況らしい。その為、流された漁具を再利用する事が最優先課題になっている。
After ACCJ left, I worked with the team that collects fisherman's lost such as buoys and rope for farming oysters.
スゴイ量のロープ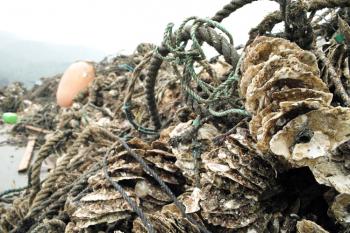 a lot of maggots came out from those ropes...
漁具チームに3日程加わらせてもらい、その後はドンチーム(石巻駅北側担当)に加わり、ドブ掃除や壁撤去をお手伝い。なかなか独特のスタイルで、作業半分 地元住民との交流半分という感じ。トコヤを営む小松さんのお宅を中継ポイントにしていて、毎日のようにお昼にご馳走を頂いた。気仙沼であがったカツオや、マグロの心臓は絶品。ボランティアに来て、こんなご馳走を食べれるとは。。。
After spent 3 days with the team of collecting fisherman's lost, worked with Don-kun whose team works at the north side of Ishinomaki train station. They do work as usual but also spend more time for talking to local citizen which I think good. We stopped by Mr. Komatu, who is one of citizen affected by this circumstance, everyday because he kindly let us use his house as a resting room. Everyday, we were treated by nice lunch Mr. Komatu cooked. I couldn't believe that we could have such meal in there.
壁破壊, destroying wall
a meal at Mr. Komatu's home
まだまだマンパワーが必要だし、後ろ髪を引かれる思いで帰ったが、9月23日から始まる自転車ワールドツアーの為に準備をしなければ。。。もし時間が取れればまた行こうと思う。今も炎天下の中、作業に入っているボランティアの皆さん、本当熱中症には気を付けて頑張って下さい。
I felt that need more man power in Ishinomaki but needed to head back to Tokyo because the time of my bike world tour is coming soon, so I should do more things for this. If I have extra time by then, I will go back again.