Finally, I left Bishkek. Sakura, the guest house I stayed was too comfortable for me to leave. In day 7 of Bishkek, the owner got water in the pool of guesthouse, so that made me stay longer. Then finally in day 9, I decided to take off.
ビシュケクをようやく出発。サクラゲストハウスは居心地が良すぎた。滞在7日目にはプールに水がはられて、さらに出発を延期。どうにかこうにか9日目にようやく出発。いやいや沈没寸前。
Now, I'm cycling.
そんなわけで現在キルギス走行中。
Headed east to cycle around the big lake called Иссык Кчпь, clockwise. I was really looking forward to cycling Kyrgyzstan and Tajikistan so am supposed to take more time this part.
ウスキョル湖を時計回りで進んでおります。キルギス・タジキスタンはかなり楽しみにしていた場所。味わいながら進みたいと思います。
At the beginning of 2 days, I cycled with a couple cyclist from Swiss-land. They are very nice to cycle with. I think more western cyclists are couple than Japanese cyclist. I'm jealous.
初日から2日間は宿で知り合ったスイス人サイクリストカッポーと並走した。日本人サイクリストはピンが多いような気がするが、欧米人サイクリストはカッポーが多い。あ~羨ましい。
Cycling in Kyrgyzstan are very nice as I expected; many people try to talk and to say hello to me. However, the road was not well constructed.
キルギス、人が良いね~。 カザフスタンでもあったような沿道からの気さくな挨拶、気持ちよい。ただ道はやはり荒目アスファルト。走りにく。
The lake was beautiful; thick blue and very clear. The temperature of it is not very cold so it is nice to swim to cool down my body. I heard that a famous monk in China went by this lake on their journey long time ago. They should have gone inside of the lake to cool off.
ウスキョル。綺麗だ~ メチャ青くて透明度が高い。水もそこまで冷たくないから、泳ぐとカナリ気持ち良い。この湖、三蔵法師もその昔通ったらしい。トゥルパンに続き三蔵法師ゆかりの地二箇所目。彼等も道中この湖で身体を冷やしたんじゃないでしょうか。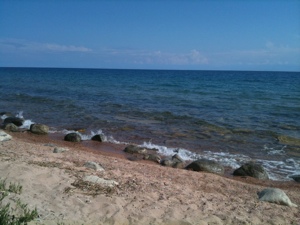 About place to stay, like Kazakhstan, I stayed local family.
道中の宿はというと、カザフスタンに続き民泊メイン。ビシュケクから3日間は道中知り合ったキルギス人家族にお世話になりました。
They were very nice and willing to let me stay at their home. I think Kyrgyz use mattress to sleep like Futon in Japan so very nice for me to sleep.
本当に手厚くもてなされて、感謝感謝。キルギス人の寝床は日本の布団と良く似ていて、布団派の自分には嬉しいかぎり、かなり良く寝れる。
A family I stayed at the first day, they provided us sauna.
ビシュケク出発初日にお世話になった家族。サウナにも入れさせて頂いた。かなり疲れが取れる。
For almost all case, people treated me with Chy tea, bread and yoghurt.
どの家庭でもチャイとパン、ヨーグルトが必ず出てくる。
A family I met in day 3, I ate a lot.
3日目に世話になった家族。たらふく食べさせて頂きました。
There were horses and donkeys everywhere. People use them as normal transportation.
ビシュケクではあまり見なかったが、馬やロバがそこら中にいて、普通に交通手段として働いている。
Nice mountains.
山が本当綺麗。