It was very hard work on the way to Jalala Bird.
いやいやかなりジャララバードへの道中はキツかった。
The road was loose gravel and rough in many sections, and there were a lot of upping down. I normally don't complain but this time was not... At the last pass between Kazarman and Jalala Bird, I took a whole day to just go up.
久々に泣が入るくらいの悪路とアップダウンの連続。カザルマンとジャララバードの間にある峠(3100m)には峠を登り切るだけで丸一日かかった。
However, the view and people were so nice!! I got invited for drinking horse milk, Kumus, many times.
ただ、景色も人も最高。遊牧民の家に上がり込んで何度となくクムスを頂いた。
On the way down from Son Kyol lake.
ソンキョルからの下り。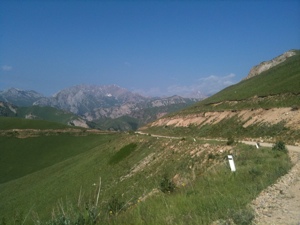 This is how switch-buck is like... I was pleased that I didn't need to go up on this...but this afternoon,, I needed to go up again in similar switchback .
久々に見る見事な九十九折。これを登らなくて良かった。っと思ったら、その日の夕方から同じような坂の峠越え。
Pretty dry in south of Son Kyol.
ソンキョルを下ると大分乾いた感じ。
Grassland again on a top of pass, people let me stay at their summer home. People and animals in grassland do same; laing down on grassland which is the best way to relax...
峠の頂上にて再び放牧地。そこで泊めて頂いた家族。キルギスの遊牧地は本当気持ちよい。ただただ寝転がるだけでよい。人間も家畜も地べたにゴロゴロ。
The last pass between Kazarman and Jalala bird.
カザルマン、ジャララバード間の最後の峠越え。
From the pass, keep going down till Jalala bird. I had a big lunch with meat and Coca-Cola...so nice..
そこからファルガナ盆地へと一気に下る。下り切って久々に頂いた肉とコーラ。最高でした。
In this area, more Uzbek lives. Family I stayed at Jalala bird was also Turkish Uzbek. They are looking different from people in north and east of Kyrgyzstan. They are still nice..
この辺はウズベク人も沢山いて、ジャララバードで世話になった家族はトルコ系ウズベク人だそうだ。顔も雰囲気もキルギス北部、東部と違う。良い人には変わりない。