A road going towered to Tajikistan from Sary Tash is called Pamir Highway. I'd been thinking to cycle this road for long time.
サリタシュから伸びる一本の道。これが、あの有名な「パミールハイウェイ」だ。どんだけここを走る事を考えた事か。
I got known about this road when I cycled north America, 2009. A cyclist told me that there was a very beautiful area in Central Asia; Pamir.
パミールハイウェイを知ったのは、2009年に北米を走った時。道中出会ったサイクリストから中央アジアにはすごい綺麗な場所をゆくパミールハイウェイなる道路があると聞かされた時だった。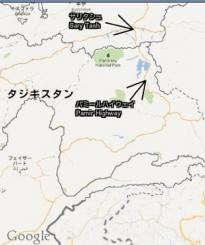 Since then, I'd never forgotten about this area. This was one of the "MUST" area for me.
それからというもの、ここが頭から離れず、ルートを考える際も、ここは他いくつかの場所同様MUSTだった。
17000km and 10 month from at the beginning, I finally reached this road.
そして、出発して10ヶ月目。走行17000キロにしてやっとここまでやって来た。
The day of leaving Sary Tash was perfect. I started cycling on Pamir Highway.
サリタシュ出発当日は快晴。タジキスタンとの国境めがけてパミールハイウェイを進み始めた。
25km from Sary Tash, there was Kyrgyz border control. Tajikistan immigration is 20km away from there, and I must have cycled cross a pass.
サリタシュから25キロ程走るとキルギスのイミグレ。タジキスタン側のイミグレは峠を越えた場所にあり、キルギス側から20キロ程離れる。
This pass was over 4000m. It's been long time since I did such highpass. On the way up, the view was very nice so I took so many photos.
峠は久々の4000m越えでしんどかったが、青い空、赤茶けた山々、背後に鎮座する5000m級の雪山のコントラストが本当に綺麗で、何度となく立ち止まっては写真を撮ったりしながら進んだ。
After the pass, I'm already in Pamir highland. The contrast of dry mountains, high snowy mountain range and crear blue sky was incredible. This was exact what I check about Pamir by google earth.
峠を越えると、そこはタジキスタンはパミール高原。乾いた大地と雪山、真っ青な空には綿飴のような雲がポツポツと広がっている。それは正に、Google earthを使って見ていたパミール高原そのものだった。
At the first day, I camped out nearby Karakyol lake. This lake was very beautiful so I stopped at local guest house next day and stayed one night instead of keep going.
この日はカラキョル湖まで走ってキャンプ。この湖が何とも綺麗で、次の日は小さな村にキルギス人のヨートステイを発見し、休息も兼ねて一泊させて頂く事にした。
Well, how I should make a route in Tajikistan.
さてさて、どんな感じでタジキスタンを進もう。