Left Murghab after taking a day off. The home-stay where stay charged me everything including Chay and Bread I had, so I payed about $12/day unexpectedly; normally, Chay and Bread are free. I payed anyway without complain.
ムルガブで1日休息を取って出発。ムルガブで世話になったホームステイ、チャイやパンなんかの値段も細かく取られていて、何だかんだで1日12ドルくらい取られた。チャイくらいタダで良いっしょ!って言いたかったが、まあ文句は言わずに金は払ったが。。。
From here, will keep going on Pamir Highway for awhile and then take a secondary road going Wakhan Valley.
ここからしばらくパミールハイウェイを走って、ワハン渓谷に抜ける事にした。。
As my opinion of Pamir highway so far, it's much easier than I expected; mostly paved and it's pretty much easy ride once got up high elevation. Even though there were not much upping down, the view was absolutely incredible. Now I know why so many cyclists come.
ここまで走ってみて思った事、パミールハイウェイは思っていた以上に楽だ。舗装路がほとんどだし、一度高度が上がってからはアップダウンもキツくない。そのわりに景色は最高にキレイで、これならサイクリストがこぞって通る理由もわかる。
From Murghab.
ムルガブからの道中。
At the day second since i left Murghab, I passed Khargush pass, 4344m. This pass was on the secondary road going to Wamhan Valley, and it was pretty rough in some sections. This pass should be the last pass over 4000m. I don't think I will go up such high pass in this whole trip. I can't imagine how many times I passed over 4000m so far.....
ムルガブ出発2日目、ワハンに抜けるルートに入った。ダートで結構しんどい。ここで、Khargush 峠4344mを越えた。これがおそらく今回の旅最後の4000m越えになるんじゃないかと思われる。ワハン渓谷は標高2700m前後だし、その後はドゥシャンべまでひたすら高度は下がる予定。いったいこれまで何回4000m越えしたんだろう。見当もつかない。
The secondary road. Power line was disappeared.
ワハンへの道に入ると電柱もなくなり、ひたすらダートが続く。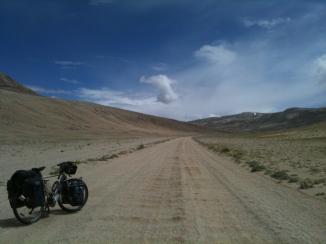 Khargush pass.
最後の4000m越え!記念撮影
I camped out by the Bank of Pamir river that divides Tajikistan and Afghanistan. I got tired of eating fish cans so started cooking real food recently. Today, I cooked vegetable soup. I used a easy cook seasoning from Rossia that I bought in Bazar. This worked very nicely.
昨日に続き今日も野宿。パミール川のほとりにて。ちなみに、川の向かいはもうアフガニスタン。最近、魚缶にとうとう嫌気がさして、ちゃんとした料理を始めた。今日は野菜スープ。味付けはバザールに良く売ってるロシア製味の素的なやつにて。これが美味い!