There were no many cars running along Wakhan valley as well. This is pretty quiet place. Wakhan has more green and cultivated lands, compare with Pamir highway.
ワハン渓谷もまた車が走ってなくてとてものどか。移動はたいがい徒歩のようで、人が良く道を歩いている。パミールハイウェイ沿いとはうって変わり、緑が多くて農業も盛んに見える。
There are always people's life where streams and branch of the river come out of mountains. Seems people had been in this valley since long time ago as the rock painting i saw shows. Also I saw a historical evidence of Buddhism; Buddhist caves and Stupa.
谷のあらゆる場所から川の支流が出ていて、そこには必ず人が暮らしている。この谷にはかなり前から人が生活していたようで、昨日の古代の岩絵もそうだったし、ワハン沿いには遺跡が沢山残されている。その中には仏教が盛んだった頃のストゥーパや洞窟も残っていて、道沿いから見る事ができる。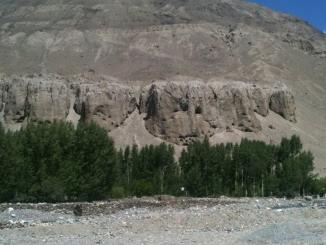 Wakhan has more things to see. There were hot springs everywhere along this valley. From Langar, I saw 3 different springs in different place. Springs are drinkable, and I will say springs were carbonic springs. Those places were kind of where local communicate; I saw local chatting at a spring and drinking.
これ以外にも見所は思った以上に多い。ワハン渓谷には温泉がたちどころに湧き出ている。ランガルから40キロあまりの間に3ヶ所も道端から温泉が湧き出ていて、村人達の憩いの場となっているようだった。飲用にもなるらしく、足を止めて飲んでいるのを見かける。炭酸泉のようで、少し鉄臭い。キルギスもそうだが、この辺りの人達は温泉との付き合い方が日本人と良く似ている。
Today, I cycled until noon and decided to hike up to a mountain to visit a hot spring. The village nearby was Yamchun, 40km from Langar. Fortunately, i met a local family at this village and could leave my stuff at their home while I was visiting the hot spring.
この日は午前中だけ走って、午後は聖なる?温泉 ビビ・ファティーマまで山を登る事にした。場所はランガルから西へ40キロのヤムチュン村。ヤムチュン村では運良く良い家族に拾われて、自転車なんかはこの家族の家に置かせてもらう事ができた。
On the way there, it took me 2.5 hours around. Looked could go up by a car but I walked; many local just walked on trail. There was an old castle wall left at the top of cliff. This was more amazing than I expected. It was like a castle flowing in the sky..
温泉までは山路を往復2時間半あまり。車でも行けるみたいだが、使っているのは爺さん婆さんと小さな子供くらい。みんなテクテク山路を歩いていた。途中、古城跡が断崖にあって、これが想像以上に感動的で、天空の城を連想させる雰囲気を醸し出して良かった。
The Hot spring was in between cliffs, and seems spring coming out of this cliff. I was surprised how they built this building.
どうやら温泉は断崖の隙間の岩から湧いているようで、建物が断崖の隙間に建てられていてビックリ。良くもこんな場所に建物をつくったもんだ。
Looked this hot spring was famous in Wakhan, so there was many locals. They charged only foreigners? So I payed 10 somni (about $1.5) at an entrance.
ワハンでは有名な温泉らしく、地元民が多い。外国人からは金を取るらしく10ソムニを受け付けで払わさせられた。
It was 20min shift system; men and women. When I went there, it was time for women. I waited 10min for all women to be out.
女子と男子20分交代制で、自分が行った際は女子の番だったらしく、10分程待たされた。
Once got into a building, there was dressing space and a tab behind.
建物に入ると脱衣所があって、奥が風呂。
It was very impressing; a lot of hot spring was coming out of rock surface above.
正に岩肌から温泉が吹き出している。頭の上から温泉が吹きでいる温泉なんて初めてだ。多分だが、泉質は炭酸泉で、温度は41・2度で丁度良い。
I had been without bathing and shower for more than 2 weeks, so It was super nice.
温泉が気持ち良かったというよりも、身体を洗ったのが2週間以上ぶりくらいだったんで、一気に身体が軽くなった気がした。
After taking a bath, I hiked down to the village. Tonight I stayed at the local family where I left my bike.
スッキリしたところで下山。今晩はヤムチュンで拾って頂いた家族宅に一泊させて頂きました。
By the way, I haven't seen cyclists since the interception of Pamir Highway. it's a bit strange...
そいえば、ここに来てサイクリストと全然すれ違わない。何かオカシイ。何かあったのか?
Comment is pending approval.
Comment is pending blog author's approval.
[2021/12/17 07:47]| | #[
Edit
] |