Turkmenistan is 1.3 times bigger than Japan, but mostly covered by desert called Gara Gum. This is desert but there were grass and small bushes on sands. The view didn't change much.
トルクメニスタンは日本の1.3倍の国土にしてほとんどがガラグム砂漠に覆われている。砂漠と言っても乾いた木のような草のようなものが生えていて、永遠と同じ光景が続く。
Like the way to Bukhara from Dushanbe, I got a wind from North West which really helped me to cycle. I cycled average 20km/h everyday.
ドゥシャンべからブハラに向かう際もそうだったが、この時期、北西の風がメインのようで、南西に向かうのには良い追い風となって時速20キロ以上で毎日進んだ。
Bike ride in desert is not really enjoyable but there were some I can enjoy. One is beautiful sun-set and sun-rise. Second is beautiful stars. Third is really sweet watermelons. I thought that the watermelon here is better than other central Asia's melon.
砂漠走行って暑いし、つまらないが良い事もある。まず朝日・夕日が綺麗、2つ目は星が綺麗。そして何よりスイカが美味い。中央アジアはスイカがそこら中に売ってるが、ウズベキとトルクメのスイカは特に美味い?ような気がした。
A guy selling melons. His cloth was like watermelon.
道中会ったスイカ売りの兄さん。迷彩服がスイカ意識。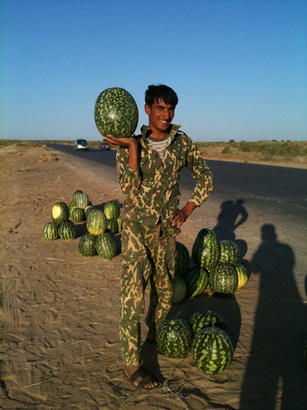 Nice to have a dinner with full of stars on the sky.
満天の星を見ながらの夕飯は格別です。
Then, finally I cycled all the way on the desert. It took me 4.5 days.
そんでもってあっという間に5日間が過ぎ最終日。結局4日でほとんどの工程を走りきった。
This was also my last day of central Asia. I stayed this part for 3.5 month total. Until the end of central asia, i didn't change what I thought at the beginning; people in this part of world was very nice. Also, until the end, I didn't enjoy food.... Overall, I had a lot of good experience without serious problems. I enjoyed a lot...
3ヶ月半いた中央アジアともこれでお別れ。中国からカザフスタンに入ってまず感じた「人の良さ」や「飯のマズさ」は最後まで変わる事はなかった。心配していた悪役人とのトラブルや、深刻なビザのトラブル等々、特筆する問題もなく来れて本当良かった。
It's getting fall. The daylight became shorter and shorter. There were clouds on the sky that I haven't seen long time. It's almost 1year anniversary and also reaches 20000km.
季節はもう秋、日も大分短くなって、空には高~い雲。そしてもうそろそろ旅立って1年が経つ。走行距離もあとわずかで2万キロだが、まだ先は長い。一事が万事、気を緩めず進みましょう。