It was my 31st birthday. I was expecting something fun, but nothing happened. However, I crossed a border of Georgia.
31回目の誕生日。今年はどんな事が起こるかと思ってたけど、特に何もなく、あえて言うならグルジアに入国致しました。
Last year, I stayed at a police office in Sumatra, and next day, 30th birthday, I got invited to stay at a local family. It was pretty nice experience.
去年はスマトラの警察署で夜を明かして、翌日は親切な人の家でホームステイしたっけ~ あぁ懐かしい。スマトラ暑かったなぁ~
Since I left Yerevan, it's been raining and cold. Seems here already winter.. I hate to get my tent wet and bike muddy...
一転、グルジアはもう冬ですね。イェレバンを出発した3日前から雨ですね。寒い~ テント濡れるの嫌だ~ 自転車ドロドロ~
Picking up quite frustration, so I decided to stay at a hotel in Akhalkalaki. I asked couple of people and found a cheapest economy hotel which cost me $10. However, a woman working here was not nice, and she asked me $3 for cold shower. There was no inside toilet only outhouse... This was unforgettable shitty birthday...
何か最低(ーー;) ふてくされて見付けたAkhalkalakiにある安宿は $10も払ったのに、従業員のオバさんは親切じゃないし、シャワー$3 とかふざけた事言われるし、トイレ外のボットンだし。。。なんか散々。ある意味記憶に残る誕生日になったかな(ーー;)
The border I crossed. This border was really small, but processing was quite smooth so took only 20min to get all done.
グルジア国境。かなりこじんまりしてる国境でした。出入国もかなりスムーズで20分くらいで一連の作業終了。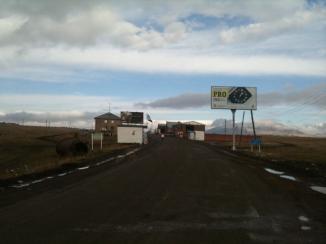 To be honest, I wanted to go up north west of Georgia, a mountains area. However, it's too late to go because it would be very very cold there. This time, I need to give up. Instead , I am going to by the black sea as soon as possible...
本当なら北部の大カフカス方面を楽しみに行きたいのだけど、もう寒くて北西部は無理だと判断し、さっさと黒海に抜ける事にしました。

遅くなりましたが、
誕生日おめでとう!

体に気を付けて頑張ってな!!
[2012/11/19 01:03]| URL | su-gama #-[
Edit
] |
Re: タイトルなし
もらったお守り握りしめて走ってますよ。沖縄行きたい。仕事頑張ってるみたいね。自分も仕事がしたいよ。仕事ある時は休みたくて、休み過ぎると働きたくなる。やっぱ人間仕事がある方が充実してるよね。


> 遅くなりましたが、
> 誕生日おめでとう!
>
> 体に気を付けて頑張ってな!!

[2012/11/24 07:43]| URL | acyclist #-[
Edit
] |