There are many RVs with kayak, canoe and bicycle running in Tasmania as this is an outdooring heaven. Many campgrounds are available and even many are for free.
タスマニアはアウトドア天国である事を物語るかのように、カヌーやカヤック、自転車を積んだRVが良く走ってる。キャンプ場もそこら中にあって無料の場所も結構多い。
In campgrounds, people are always gathering and having beer and wines, they call "Happy Time". Almost every time when I stayed a campgrounds, people asked me "Hey mate!! Want a beer!?". Australian seems very friendly and welcoming outsiders. Of cause, I grab one and joined them.
キャンプ場に立ち寄ると必ずといって良い程 RVのご近所さん同士、みんな集まってビールを飲んでるのを見かける(ハッピータイムというらしい)。そんな場所に行くと皆さん必ず「ヘイ兄弟!ビール飲むかい!?」と声を掛けてくれる。オージーは本当フレンドリーだ。当然、断る理由もなくビールやワインを頂いてしまい、皆さんとガヤガヤしてるうちに日がくれてゆく。何て幸せなんだろ~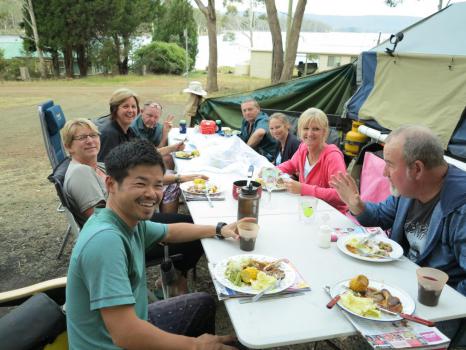 This is my favorite style of cycling for sure; cycling nature and meeting nice people. My tour of north America was same way, I remember.
やっぱり自分はこういうのが好きだな。北米走った時も毎日森のなかでキャンプして最高だったな~
Tasmania!! There are many places like postcard.
そしてタスマニアは絵になる場所が本当多い!!
At Campbell town, a bridge that is made by people, prisoner who were sent from UK. キャンプベルタウンにて。イギリスの刑務所から送られて来た人達によって造られたらしい
Inland of Tasmania, タスマニア島内陸部
The east coast was mix of glass land and blue ocean, and mountain area of inland became greener; there were many big trees and even rain forests in certain valley. Half of west part of Tasmania is world heritage sight, and those forest are very old.
東海岸線は乾いた草原と青い海、内陸の山岳部に入るにつれて森が深くなって、乾いた森林から谷によっては巨木が生える雨林帯がある。走っていて植生がすごく変化していくのがわかるから飽きない。面白い島だ。内陸から西にかけての森林地帯は世界遺産にも登録されているくらい古い森らしい。
Liffy Falls
Spiky!! ハリネズミ
I don't have only good things in this island. This island is very hilly, and they are sometimes super steep!! Even in off-road, on the way up became disaster. I can't make long distance in a day and am always exhausted after cycling. Now, I'm going to even mountain part! Great!!
そんなタスマニア島、楽しいばかりでない。とにかくアップダウンが多い! しかも場所によっては角度がハンパない。オフロード走った日にゃそれはそれはスゴイ角度でアップダウンを繰り返す。おかげで進まないわりに毎日ヘロヘロ。これからさらに北西の山岳部へと進みます。どうなることやら。