This is the most famous national park in Tasmania, Cradle Mountain N.P. I stopped here on my way to see how it looks like. The my camping spot was just out of this N.P., and it was part of conservation area. I camped outside of N.P. because the campground inside was super expensive!! I don't want to pay it for $27 per night!!
タスマニア島で最も有名らしい国立公園、クレイドルマウンテン国立公園に寄った。中のキャンプ場はバカ高いから、国立公園出たすぐ近くの自然保護区内で野宿をしつつ国立公園内を散策した。
The day I arrived there was on Sunday, so there were so many people in visitor center. I considered seriously that I would skip this N.P.,because too many people. However, eventually, i decided to look around it.
着いた初日、その日が日曜日だったというのもあるが、あまりの人の多さにドン引きしてしまい、中に入るか入るまいかかなり迷ったが、やっぱり楽しそうなんで行ってみた。
After seeing this area, I was pleased that I made decision to come inside of N.P. It was absolutely beautiful. I hiked up the peak of Mt. Cradle which took me 7h around trip, and the view from the top was amazing. However, I couldn't see much wildlife; I think it's because there were many people in the same area. My camp spot near N.P. was much better spot for seeing wildlife.
入ってみてやっぱり良かった~と実感! ザ、タスマニア島といった景色が広がっていて大満足。2日目にはクレイドルマウンテンの頂上まで往復7時間くらいのトレッキング。景色は最高でした! やはり人が多いせいか動物にはあまり会えなかったのが残念。むしろ野宿地の保護区の方が動物影は濃かった。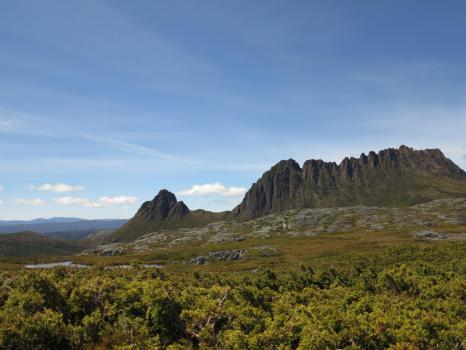 There are soooo many stars!! 星の数がヤバイっす
There was the famous long trail along this N.P.called "Over Land", which normally takes a week to the other side of N.P. I heard that this was very famous in Australia even in around the world. I met a japanese couple who would try this one and was so jealous. In Tasmania, there were another famous long trail in south. My friend in Hobart, Wayne did this and it took him 18days.
この国立公園、時間が1週間くらい取れればオーバーランドというかなり有名らしいトレイルもある。世界中からこのルートを歩きにハイカーが来るらしい。実際、これからオーバーランドに挑戦する日本人お二方にビジターセンターでお会いした。何て羨ましいんだろう。この他にもタスマニア島の南側にも1週間超のバックパックルートがある。こっちはホバートで世話になってるウェインが18日コースをやったらしい。あ~羨ましい。
In Tasmania, it's very easy to walk and camp because I don't need to worry much about dangerous animals. I remembered that I was alway nervous about bears when I traveled in Alaska and Canada.
タスマニア島は野宿しても山を歩いても人間を殺せる動物がいないから本当リラックスできる(ヘビはたまに見ますが、クマよりまし)。アラスカとかカナダを走った時なんて、クマが怖くてたいがいビクビクしてたもんな。
Well, seems this is the heaven of outdoor people. I will keep on my way..
そんなアウトドア天国タスマニア島、まだまだ満喫しますよ~
Only the administrator may view.
Only the administrator may read this comment.
[2013/01/18 21:38]| | #[
Edit
] |
Re: タイトルなし
> 健太さん、こんにちは。そちらは、夏ですね。
> とっても幸せそう。こちらは、雪・雪・雪。
> ところで、前回のコメントは、見て頂いたでしょうか?返信をお待ちしています。

今日タスマニア島周遊終えてホバートに戻りました。インターネット環境がしばらく悪くて、返信遅れてすみません。今日はもう遅いので、明日の夕方くらいに、MASAさんに電話してみます。本当、日本にいる時からイロイロありがとうございます。あ、それと、今年の夏フランス行きます。何処かオススメの場所、ワイナリー含めあれば教えて頂けませんか? 多分フランスは1ヶ月程滞在すると思います。

[2013/02/05 03:02]| URL | acyclist #-[
Edit
] |