5 days in wilderness, reached to the area where some decent towns were, Zeehan, Strahan and Queenstown. Packed up food for 7 days in Queenstown and took off again. There are not many food markets in west coast even though many interesting places are there. If people want to spend time in lakes, N.P., etc, they need to collect enough foods before hand.
5日ぶりにまともな町がいくつか(Zeehan, Strahan, Queenstown)ある地域まで走って来た。その中のQueenstownで7日分の食料を買い込んで出発。西部は見所が多いのにまともに買い出しができる町が少ない。途中の湖やN.P. で時間を使いたい場合、十分に食料を買い込むべし。
Relaxing by a lake
湖の畔で2日ゆっくり。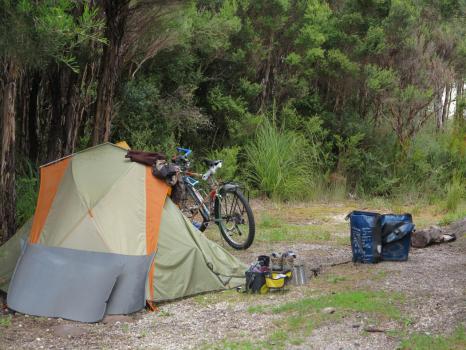 Franklin•Gordon Wild River N.P. の名前にもなっているFranklin river
St.Clea Lake.this is the lake that is the southern end of Cradle Mountain N.P. セントクレア湖、クレイドルマウンテン国立公園の南端
Hike up Mt. Ruffs 登山, 7h roop.
Only 170km left to Hobart. Time flew very fast.
ホバートまでもうわずか170km。あっという間です。
The last stop before going back to Hobart, Mt.Field N.P.
ホバートに戻る前に最後の寄り道、Mt. Field N.P.
Russell Falls
Horseshoe Falls
Big Trees, they are not as tall as Red Woods, but still huge. These trees are supposed to be the tallest flowering trees in the world. This one is 80m tall, カリフォルニアにあるレッドウッドまでとはいかないが、世界で一番高い花を着ける木らしい。スゲーデカイ。この木は80mらしいです。
This is also nice river, ここも川が綺麗。
Many ponds and lakes makes unique scenery.
この辺りは沼や湖が作り出した独特の景観が良い感じ
Marriott Falls, a water falls in state reserve. I think this water falls was the best I've seen. This is like a masterpiece of natural creation.
国立公園からさらに西に数キロ。州立保護区内にある滝で、この滝はスンゲー綺麗だった。何というか、ジャングルの中にひっそりと佇んでいて、正に自然が作り上げた傑作品。
Junee Cave, pure water keeps coming out of this cave. This creek was very beautiful. The camping spot by this river was really nice.
綺麗な水が川となって出てくる洞窟。この川辺の野宿スポットは最高だった~
It's only one day bike ride away to Hobart. Finish soon!!
ここら辺からホバートは自転車で1日の距離。タスマニアらすとらん!