昨晩、飯を作ろうと思ったら、キャンピングストーブのポンプキャップというゴムの部分が劣化して柔らかくなり、使えなくなってしまった事に気づいた。
Last night, when I started to cook, I found that my cooking stove couldn't be pumped up. Seems the laver on the top of pump became too soft.
どうにもこうにも直せないから、この日はコンビニまで夕食の買い出しに行った。でも毎回買い食いしたら完全に予算オーバーしてしまうから、何とかパッキンを手に入れる事が必須だ。
That night, went to the store for buying my dinner. However, buying food for each meals can make a lot of expense, so I must get my stove fixed.
一番近くで大きい街が旭川市。なので北西に進むのを、急遽北東へ。事前にアウトドアショップを携帯で調べ、在庫がある事は確認した。
The closest city nearby was Asahikawa, so I decided to head to here; actually, was supposed to go north west. By the way, checked item availability before heading.
行く途中、100万本のひまわりが咲くひまわりの里へ。彼女と来たら楽しいだろうな~
On the way, stopped by Sun flower hill. Wish come back with my girlfriend.
旭川市。無事パッキンを手に入れる。ちゃんとパンピングできる。ついでに短くてイライラしていた自転車のステムも交換。こっちの方が走り易いようだ。
In Asahikawa, got item which worked properly. Also bought the stem for my bike because my shorter stem kept my arms soared.
そして、今日のクライマックス。旭川ラーメン。自転車のおじさんに紹介された。久々にガッツリ食べた。大盛りペロリです。
It is today's most exciting time; eating Asahikawa Ramen, one of famous ramen noodle in Japan.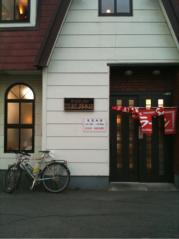 これでまた足に力が入りそうだ。
It will boost my legs from tomorrow.