今は幌加内という日本で一番寒い街で野宿してます。ってか暑いです。寝苦しいし。
Camping out in Holokanai town which is the coldest place in Japan during winter, can be -40℃, however it's too warm for me, I think it's about 28℃ now.
旭川市から北へ80km程、ソバの生産量日本一だそうです。今はソバの花が満開です。一面真っ白。
This town is located about 80 km from Asahikawa, and people in here mainly work for firming Soba plants that makes Soba noodle. This town produces the biggest amount of it in Japan.
今日は川で洗濯。乾燥してて暑いから良く乾く。
Time for my cloth to be washed.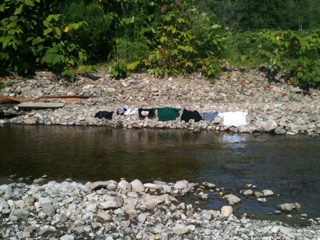 これが通常の晩ご飯。
My normal dinner, noodle, rice, can of something, and soop.