昨日は未知の150km/dayに挑戦した。。。というか、羅臼岳に登る為にはそうするしかなかった。
天気予報を確認したら、2日後は雨、だけど翌日は晴れ。いた場所は150km手前。それは行くしかないっしょ!
Tried riding 150km in one day. Actually, I needed to do that to hike on Mt. Rausu. According to weather forces, will be sunny tomorrow but rainy on day after tomorrow.
知床連山, 一番右が羅臼岳. Mountains in Shiretoko peninsula. The biggest on the right is Mt. Rausu.
で、何とか向かい風強い中、昨日 世界遺産知床に到着。ビジターセンターで情報収集。どうやらウトロ登山口がベタらしく、向かった。しかし、テントをはれるって聞いてたのに、はる場所が見つけられなくてウロウロすること10分。奇跡的に登山口に山小屋発見。温泉も付いて、ひなびた感じで良い感じなので、2000円/泊で手をうちました。
I did it against strong head wind. Anyway, I got to a world heritage area, Shiretoko, yesterday. Visited the visitor center to correct some info about hike. They said better to start from a trail head located Utoro city side, so I went there. But, there were no camp site that they told me. Walked around and found the little hostel nearby the trail head. I decided to stay there because it costs only 2000yen.
そして今日、アタックは5時。昨日山小屋で知り合ったイサヲ君と登った。時間がはやかったから天気も良くて、足も軽く頂上まで3.5時間で到着。眺め最高、そして北方領土の近さにビックリさせられた。帰りはゆっくりめで3時間くらいかな。休憩時間入れて往復7.5時間くらいだった。
Then, in this early morning, about 5 am, started hiking. I hiked with a guy i met this hostel last night.
It's sunny and nice trail, so we took only 3.5 h besides the info says 5 h up. Enjoy nice view and surprised how close to the Northern Territory disputed against Russia, Hoppouryoudo.
On the way down, took 3h, its about 7.5h total included resting time.
北方領土。The island still disputed against Russia.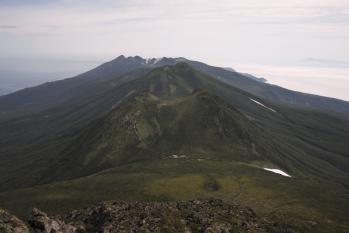 下山後は、山小屋の無料温泉にて身体を癒す。Free hot spring at cabin.
そこまでは良かったけど、ここからまたチャリで峠越えはキツかった~ 。だいたい2時間は登ったかな。一番キツかったのは、ケツ。昨日の150kmで多分皮がむけた(^^;;今のサドル大っ嫌い。
That good day until hiking done. It was so tuff to bike to the pass from trail head. Took 2h to reach to it. Seems my bud skin got peeled off little bit by yesterday's long ride....I hate my saddle so much
おめでとうございます。
羅臼岳 やったね~!
ケツの皮 新しいのが出来た(笑)。
峠を越えたら後しばらくは平坦な道?かな。
ファイト!kenta君


あの日晴れたねを最後に、ずっとすっきりしない天気です。今日なんて一日中雨で、自転車びちょびちょで、テントもびちょびちょです。気が滅入りますね。
[2011/08/16 05:12]| URL | #-[
Edit
] |