In Senegal, getting a meal was not big deal. In the morning, women sell French bread and coffee. those cost $0.5.
セネガルでは飯に困る事はほとんど無い。朝はフランスパンとコーヒーが路上で売られていて 50円くらいで済ませられるし
At the noon, people sell sandwich beside the road. It cost about $0.5 as well.
昼時になれば姉様方が路上でサンドイッチを売り初めるのでそれを頂く。これも50円くらい。
I can find rice dish as well after noon.
米料理も昼からなら食べられる。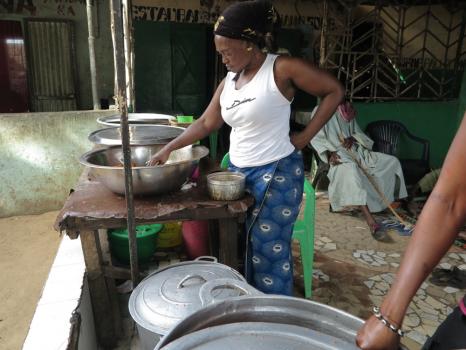 I can eat it on sight and also take it out if I bring a pot.
I normally brought my pot and asked the portion with about $1.5. I have it as a dinner so don't need to cook.
その場でも食べられるし、鍋を持って行けばお弁当にもしてくれる。自分はだいたい鍋に150円分くらい(かなりたっぷり)入れてもらって夜飯にしていた。
Now, it's dry season here. There were watermelons sold everywhere.
A little one costs about 50 cents. I bought one and eat half. I gave away half of it to boys watching me.
乾季の今はスイカもそこら中で売られていて、1玉50円くらい。1玉丸ごと買って食い切れないので学校返りの学生にあげたりしていた。
For water, I buy from water man. There were normally men with donkey walking around a village and town and sold water.
I can get good fresh water in 20 cents for 7ℓ.
水は水屋から買う。ポリタンクを積んで歩いている水屋がちょっとした町には必ずいて、美味しい水が手に入る。7ℓくらい補給して20円くらい。
I found guys drinking baobab juice. I tried. It was very tasty like mango juice.
兄さん達が美味しそうに飲んでいたのはバオバブジュース、飲ませてもらったらマンゴージュースみたいですごく美味しい。
As you see this baobab tree, it has a lot of big fruits.
雨季が終わって乾季に入った今、西アフリカは実りの季節。バオバブの木には沢山実が付いていた。
In this day, I camped at a village.
この日はガンビア国境手前まで走った。村に立ち寄って野宿させてもらう。
It was not the village. It was a big family community. Man had a two wives. They had both some children and ground kids as well.
Those all people made a small community that I thought a village.
テントを貼らせてもらったのは大家族。お爺さんを長として、2人の妻、それぞれに数名の子供がいて、そのまた子供もいるから、一つの家族が村を形成していた。