The southern part of Senegal, Casamance, majority of people speak Jola; northern part of Senegal was Wolof, has a unique culture but still the tension between government and independentist remained.
セネガルのカザマンス地方は独立騒動の火種がまだ残る場所で違った文化を持つ場所。そもそもカザマンス地方は民族が違う。セネガルのメインパート(ガンビアより上)がウオロフ族なら、カザマンスはジョラ族。ここの人達見た目は同じだけれど違った文化を持っている。中国でいうチベット族地域みたいなもんだ。
より大きな地図で
Cycling West Africa 2/2
を表示
There were even bigger trees left in Casamance.
カザマンス地方は熱帯雨林特有の巨木がそこら中で見られる。
Those trees looked 30 to 40m high. Now, many trees have been cut and exported to China. The Gambia was same way, but now Chinese was more keen to Casamance.
30~40mくらいはあるか。この巨木達、中国から目を付けられて伐採されコンテナ船で輸出されているらしい。ガンビアの巨木も大分伐採されたらしい。
There were some sections with log barricades in every some kilometers on my way. Still some solders stayed and checked ID.
However, the atmosphere was quite relaxing; chicken and pigs crossed, little kids running around.
ゴタゴタ騒ぎの爪痕。丸太やタイヤで造ったバリケードが数キロ毎にあって、そのうち数カ所は軍の警備も配置されていた。とはいえ、バリケードの前をブタやニワトリが横切ったり裸の子供が遊んでいたりと平穏そのものだった。
Seasonal their favorite fruits, Taro has been sold along the road. This fruits taste bittersweet. I loved it.
道端ではタロウという木実が一袋30円くらいで売られている。甘酸っぱくて美味しい。
Kids were always giving me a joy. I took this photo at a sandwich shop.
子供達はどこでも人懐こくて可愛い。昼飯で立ち寄ったサンドイッチ屋。
Beautiful sisters
美人姉妹
After 100km cycling from the border, I arrived to Ziguinchor, the capital of casamance.
This town was unexpectedly small, and I saw quite few white men; they were most likely French.
ガンビア国境から約100km、州都ジガンジョールに到着した。思っていた以上にこじんまりした町だ。案外白人が歩いているのが目に付く。フランス人だろう。
People from this region was even more gentle and friendly.
They came for helping me before I asked. It might be because I was Asian on the bicycle, I am not sure.
カザマンス地方のセネガル人はさらに世話好きだ。道を聞いたり、安宿を聞くと、というか聞く前に声を掛けて来て世話を焼きたがる。東洋人、しかも自転車に乗っているから珍しいのだろう。
In Ziguinchor, I stayed at a hotel, though It costs 10000CFA not cheap.
今日の寝床はホテルになった。1泊10000CFAもしたけれど、久々に部屋を取る事にした。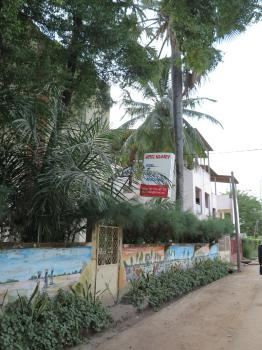 The market, 市場
African Mosquitos repellent
蚊除けクリームらしい
Main street, many pot holes.
カザマンスのメインストリート。穴だらけ。
African Baby shower
妊娠祝い
I went to a shop for getting some musics.
電気屋に行ってこの辺りの音楽をもらう。
Live music of this region is the world famous. Senegal is Wolof music, casamance is Jola, Gambian mandinca, Bisau's Kriol.
Mali, Guienea Conakry and Gana are also famous for music.
セネガルはウオロフ語、カザマンスはジョラ、ガンビアはマンディンカ、ビサウはクリオール、地元音楽がそれぞれあって本当良い。モーリタニアの音楽も良かった。マリやギニア、ガーナも面白いだろうな。