I liked the people in Bissau but the town of Bissau was too uncomfortable to stay longer; no power, no Internet and expensive accommodation.
I thought It would be a good idea to go back to Ziguinchor and take more time to think about my route because I was still unsure whether or not keep going west Africa.
My visa of Bissau was double entry, so I can come back again if I decided.
ビサウ、人はとても良いのだけれど、町自体の居心地が悪すぎる。このまま西アフリカを進むにしても地図が無い、情報を得ようにも電気が無いからネットができない。宿代が高すぎて長居しようにもできない。
ビザはダブルエントリーだからまた戻れるし、1泊だけして一旦ジガンジョールに退却する事にした。
I found a mini bus going to Ziguinchor at the taxi and mini bus Garage easily. I paid 5000CFA about $10 including my bicycle.
This scrap looking mini bus surprisingly run okay, but I thought it would be broken down anytime.
乗合ミニバスはすぐにガラージ (乗合バス、タクシー乗り場) で捕まった。荷物込みで5000CFA約1000円。ギシギシ今にも分解しそうなボロバス。自転車移動の方がよっぽど楽なような気がする。
I returned to Ziguinchor. It took only 4h.
In this time, I camped at Hotel Ndaary. It was 3500CFA/night about $7 including African shower and WiFi. They didn't actually advertise for camp but I successfully negotiated.
ジガンジョールには4時間で着いた。今回は前回泊まったHotel Ndaaryで何とかお願いしてキャンプさせてもらった。3500CFA 約600円。
実は前回泊まった翌日に近くの安宿 Casa Frequeというロンプラ掲載のキャンプ可ホテルに移動していたのだけれど、スタッフがHotel Ndaaryの方が断然良かったし、フリースペースがかなりリラックスできるので、こっちでキャンプさせてもらった。
Pelicans and a bird I've never seen walk around the back yard of this hotel.
この宿、庭にペリカンやよく分からない鳥がウロウロしてて面白い。
I have been thinking over and over again how I should make the plan for couple of days.
I didn't expect how I would love this region.
ここからさらに2日悩みに悩んだ。かれこれ1週間以上悩み続けている。こんなに西アフリカが気に入るとは全く予想していなかった。
Then finally, I decided....
そして出た結論
I will fry to east Africa.
やっぱり東アフリカに飛びます。
The biggest reason was where I will finish. If I intend to keep going west, I could go till Togo or Benin. However, there would be not good place to finish such as a cape.
最後まで悩んだのが「何処をゴールにするのか」
西アフリカに残ればトーゴかベナンまでは轍は繋げられる。でも「先っぽ」がない。
気持ちよく終わる為にはやっぱり「先っぽ」が良いんです。
これは自転車乗りでなくても旅をする人ならわかるはず。
より大きな地図で
Cycling West Africa 2/2
を表示
Since I have a limited budget after traveling over two years, I cannot keep traveling if I fly from Togo or Benin to east Africa; visas in west Africa are extremely expensive.
だったらベナンやトーゴから東に飛べばと思うかもしれない。でもそこから東に飛べても旅の資金がもたない(西アフリカでビザ代が無料な国は無い。そしてどの国もやたらと高い)。
I thought I should spend my money for safari or other attractions in east Africa rather than stupid visas in west Africa.
ビザ代に数万円も使うのであればやはり東に飛んで少しでもサファリなんかに金を使った方が良いのではないかという結論に達した。
Repentance is usual for journey. I can probably have another good time in east. I shifted my motivation to east Africa and started preparing going back to Dakar.
旅に心残りはつきもの。東アフリカでもきっと良い出会いがあるはず、気持ちを切り替えて飛ぶ準備をするとします。
I loved Senegal and really loved people here.
I met many nice people. This man worked at a souvenir shop.
ジガンジョールの人はみんな穏やかで親切な人ばかりだった。この兄さんはお土産屋の兄さん。
He was not typical guy working tourist industry; greedy for money.
He was just friendly and liked hanging out with strangers. There were many people same way in this region.
普通に良い兄さんで、土産物売りそっちのけで町を見て周ったり、しゃべったりしていた。こういう人がセネガル、ガンビア、ビサウには沢山いるんです。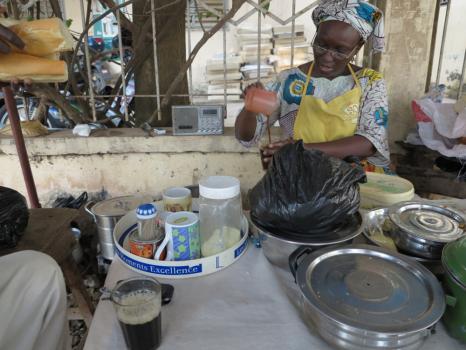 A woman at a sandwich shop and a guy at a cafe stall, those all made my good memory.
I was getting a bit popular as a Japanese cyclist who stayed in Ziguinchor. Its sad to leave. I am for sure coming back to Senegal again.
サンドイッチ屋のおばちゃんや、コーヒー売りの兄さん、自転車乗りの日本人として少し顔がきいてきた分だけ去るのは寂しい。セネガルは絶対また来よう。