Unsealed section has begun from Babati till Dodoma, about 250km.
Babati からドドマまでの約250kmの区間は未舗装。赤土の道を埃まみれになりながら走った。
The road condition was not really good, and upping and down steeply. But it was really exciting to ride on dusty African dart road and passing by many small villages.
道は悪いし、アップダウンもかなり急。しんどいけれど、アフリカっぽい楽しい道。次々と小さな村々を通り過ぎる。
Thousand years old giant acacia trees made a good shade along the way.
アカシアの巨木が至る所にあって良い日陰を作ってくれていた。
Pure blue sky and white cloud.
空を見上げると真っ青な空と白い雲。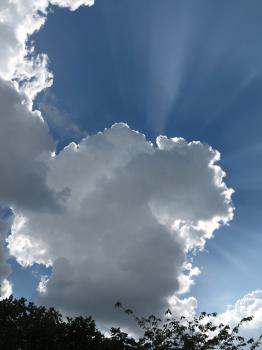 Kids like to chase a bicycle.
子供達が本当良く追いかけて来る。
Every time when I passed by a small village, kids found me and shouted "Muzung!! Jambo Jambo!!".
They were so cute and funny.
They always stopped and make some distance between, about 5m. I don't know why. Seemed 5m distance was their pre-cautious distance.
アフリカの子供は好奇心の塊、すごい勢いで「ムズングー! ジャンボ!ジャンボ!」と叫んで追いかけて来る。可愛いもんでみんなだいたい至近距離には来ない。5mくらいの間隔を空けて立ち止まってこちらの出方を伺うようだ。ここは走ってるだけで面白かった。
Many baobab trees had been appeared as I got close to Kondoa.
Kondoa辺りからはバオバブを良く見かけるようになった。
The road got pretty badly. Small rocks, 2-3cm big covered on the road, so it was hard to cycle. Couldn't keep sitting on my saddle.
この辺りから2~3cm大の石ころが道を覆っていて、すごく走り辛かった。ケツもすごく痛くて座りながら長いこと走れない。
Lunch break, 昼休憩
Every once in awhile, a bus passed by, and those buses went very fast on this bad road. The drivers of this bus must be damaged on their brain by a lot of vibration.
たまにバスがすごい勢いで通る。ドライバーは振動で頭がイカれているのだと思う。
The wire cable of my handle bag was torn off by hard vibration. I fixed it with break cable.
振動に耐え切れずハンドルバーのワイヤーが切れた。ブレーキケーブルで補強。
By the end of the year, I finally arrived to Dodoma. I was so tired. The town was surprisingly very quiet though it was a day before the new year. I cerebrated my arrival and ending 2013 by very cold coca-cola that I haven't been able to find for last 5 days.
そんなこんなで大晦日、アルーシャから5日掛けてドドマ到着。かなり疲れた。全く大晦日ムード無しの首都ドドマ。疲れ切って祝える気分でも無い俺。でも5日振りに飲んだ冷え冷えのコーラは何よりのご褒美だった。皆様良いお年を。