The road between Dodoma and Iringa had been under construction by china. It was easy to cycle in most of the part.
ドドマ→イリンガ間は中国が一生懸命舗装工事をしていて、かなりの距離が走り易くなっていた。
Most of the workers were African. In Tanzania, unemployment rate is very high. I thought China was doing good on the people though their working condition and benefit might be not good enough. It's still better than nothing.
たまに監督役の中国人を見るけれど働いているのはアフリカ人。職業難のタンザニアで賃金や雇用関係はどうであれ職をかなりの量創出している中国はなかなか良い事をしているのではないか。
In Africa, all Asian are "Chinese". I was called "Hey China" some times. It annoys me every time.
However, China is the biggest nation involved development of Africa, so I understand that i cannot change people to say "Hey Japan".
Actually, Japan also has been investing Africa with a lot lot of money(ODA), but image of investment still dominated by "China".
アフリカ人にとってアジア人は全て中国人。良くチナと言われたりする。イラっとするけれどアフリカでの存在感を考えれば仕方ない。いくら日本がODAで巨額の資金を投じても一般の人にとって全ては「チナがやってくれる事」なんだと思う。
A bee flew into my sunglasses and stuck between a glass and eyelids. Then he stings my eyelid. I became very ugly.
ミツバチがサングラスとまぶたの間に挟まって刺された。誰だか分からない。
There were much more upping down than I expected for Tanzania. Going up hill to Iringa. Nice view of forested area.
タンザニアは考えていた以上にアップダウンが多かった。イリンガに抜ける手前にあった長い山越え。森林帯を見下ろす。なかなか壮観。
Road-less. Ruaha National Park is not far from here.
この辺りは全く道が無いエリア。Ruaha国立公園の辺りかな。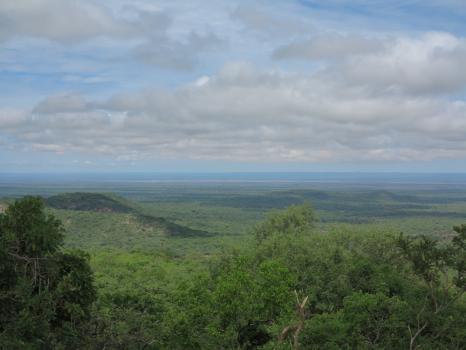 At a lunch, Wali, local name of rice has been done for cooking in early afternoon.
They have also Ugari, but I prefer rice.
食堂で昼飯。昼過ぎくらいからワリ(現地の言葉で米)が炊き上がるので、食堂に行けば米にありつける。ウガリもあるけれどやっぱり米が良い。
The menu was always one choice. Wali Nyama, rice with beef stew or Ugari Nyama, Ugari with beef stew. Banana is local preferred essence on the rice. It was actually good.
たいがいメニューは米かウガリと牛肉スープ、ワリニャマもしくはウガリニャマというメニュー。バナナを米と一緒に食べるのが一般的。なかなか美味しい。日本だったら100%しないけど、これしか地方の食堂には無いから喜んで頂く。
A Chameleon crossing road. He walks very slowly. Strange looking.
ノソノソ歩いているカメレオン発見。車なんてほとんど通らないからこんな遅くても道を渡れるんだろう。
Actually, he can run faster. As I tried to catch him, he cried and crossed the road very quickly. He might be just lazy like African.
There were many strange spices in Africa.
捕まえようとしたら「ウギャー」と声を出した後すごい勢いで走って逃げられた。やればできる子らしい。アフリカにいると変な生き物を本当に良く見る。
Especially, during the nights, many strange things came out. This is one of them. a centipede or what??
At a cheap local guest house, I saw very nasty looking big spider in the toilet. There were enormous amount of cockroaches as well. I was almost passed out.
African toilet can make a good competition with Chinese toilet.
巨大なムカデ?何これ。夜は特に気持ち悪い生き物が出る。サソリには慣れてきた。最近泊まった安宿のトイレなんて気持ち悪い巨大なクモ?みたいのとかゴキブリがワシャワシャいて卒倒するかと思った。アフリカのトイレは中国の人民便所と良い勝負かもしれない。