It was very boring and tiring distance for 400km between Iringa and Mbeya, the transit town en route Zambia and Malawi.
イリンガからマラウイ・ザンビアへの交通の要衝となるムベヤの町間約400kmは非常につまらなかった。ダラダラなアップダウンが延々と続いてやたらに疲れる。
より大きな地図で
Cycling East Africa 1/2
を表示
Just bushy view along the way, there were no enjoyable sight such as baobab and acacia growing up or wild animals grazing.
アカシアやバオバブが生えているわけでもなく、動物が観れるわけでも無い。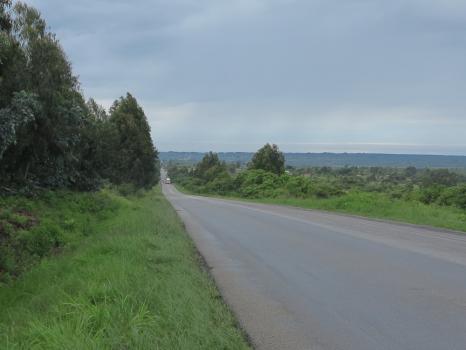 Southern Tanzania is now rain season. I got scatter shower almost everyday.
Every afternoon, rain cloud was formed up on the sky and started showering.
この時期のタンザニア南部はド雨期。イリンガからはほぼ毎日通り雨にやられた。午後になると必ず雨雲が出て来て、至る所で雨を降らせる。
After shower is refreshing but...This main road is really dangerous with big trucks and buses. I hated it. African's driving is really really crazy. They are absolutely worst in the world.
I was really pleased that I had a miller on my eye glasses so could check trucks coming behind.
I strongly recommend any cyclists who plans to cycle here to have the miller. It must well worth.
雨上がりは気持ち良いのだけれど、このイリンガ~ムベヤ間トラックやバスが非常に多い。しかもアフリカ人の運転だけに非常に恐ろしい。この区間を走るのは苦痛以外の何物でも無かった。自分はいつもメガネにバックミラーを取り付けて走っているのだけれど、このミラーがこれ程役に立った事は未だかつて無い。ここを走る自転車旅行者には強くミラー装備をお勧めする。