Keep pedaling since I left Mt.Bromo. Only I can see is rice feeld. Seems it's about the time for them to crop those. Many people work together like people in country side of Japan used to do.
ブロも火山を出てからもくもくと走ってます。見えるのは田園風景。刈り入れ時なのか、沢山の人達が一緒に稲刈りをしてるのが見えます。昔の日本もこんなんだったんだろうな~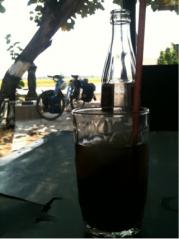 Stop and find a hotel. Take a shower and relax until sun set. About 5:30pm, Azarn started around. People start doing back home. I don't know why it's letting me relax. Do Japanese society need this time? People work work without checking time. When they realized it, it's already passed couple years. Then thought "what i got done last few years?". ....I just thought.
走るのをやめて、宿を探し、シャワーを浴びて日の入りまでリラックス。5時30分くらいになるとアザーンがそこらじゅうから聞こえ始め、夜が近い事を知らせてくれる。わからないけど、心地いい。
日本社会にもこんな時間がもっとあって良いんじゃないかな~ 時計を見るのも忘れて働いて働いて、気付いたら数年経ってたりなんかして。そんで「ここ数年何したっけ?」なんて。