I've never expected before that I turned into 30 years old in Sumatra. My cerebration at the beginning was not so good. The bridge on the way was just corrupted last night due to the strong wave in the time of high tide. So I needed to take a different way that was dusty and rocky unpaved road.
30歳の誕生日をスマトラ島で迎えるなんて過去に考えた事もない。誕生日の出だしは最悪。昨夜の満潮時の強い波で、通るはずだった橋が崩れて通行止め。おかげでホコリだらけのデコボコ道を走って遠回り。
After that, my birthday became better. The road was along a very nice white sandy beech-side road. It's very quiet and relaxing. When I visited a police office as usual to ask if I can stay there, I met nice people. They took me around the town, Painan. We saw such a beautiful sunset and had a nice dinner. How nice my birthday was.
その後は、誕生日も良い方向に向かう。道は最高に気持ちいい、白い砂浜沿い。静かな癒しを感じながら走り今日の目的地へ。いつものように警察署に泊まる為に交渉しに行くと、良い人達に出会い、街を案内してもらったうえ、最高に綺麗なサンセットを見させてもらった。何だかんだで、良い誕生日 だったな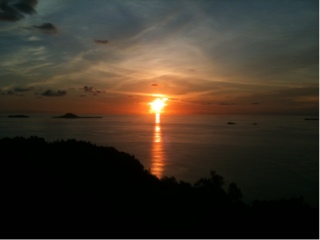 Only the administrator may view.
Only the administrator may read this comment.
[2011/12/24 16:40]| | #[
Edit
] |
Re: No title
> Hi, Kenta! I lost you for awhile - glad I found you again. So are you in Thailand now? I will try to keep better track of you and to write more often. Big changes in my life - I will write later. Wishing you all the best.
> Trudy

Hello, Trudy.

It's been a long time!
How's your life going?

I know you had big change of your life.
I am also having a big change of my life; traveling around the world.

Yes, I am now in Thailand and will be heading to Cambodia from this coming Sunday.
So excited to see a lot of ancient temples.

Let me know how you do sometime when you have a time.

Bye

[2012/01/13 08:13]| URL | acyclist #-[
Edit
] |