Seems it's true that Thailand is the country of smile. People mostly smile when they make an eye contact.
It's very nice while riding bike.
タイが微笑みの国というのはいささかウソではなさそうです。みんな目線が合うとニコッとします。自転車に乗ってる時に微笑みかけられるのは気持ちが良いもんです。
After cycling 5 days from Penang, I arrived to Krabi, a beach resort in south of Thailand.
5日間ペナンから走り、今Krabiというビーチが有名な街まで来ました。
Hnn, what shoul do for tomorrow...
明日は何をしよう。
Saw mant "Tuku Tuku" in Trang, a town 120km south east of here. I thought those are only in Bangkok.
トランという街でトゥクトゥクが沢山走ってるのを見ました。バンコクだけだと思ってた。
I met a guy,Ed from the U.K. who started his motor cycle tour from kuala lumpur. He brought his Honda 90 super cub from the U.K. and going back to his country.
エドというイギリス人サイクリストに会う。ホンダの90ccスーパーカブを自分の国から持って来て、クアラルンプールからイギリスまで行くらしい。
In Night market in Krabi, a sushi store with a paper lantern of Takoyaki.
クラビのナイトマーケット。寿司屋台にたこ焼きの提灯が。。
A market in the morning, 朝市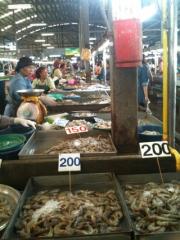 Sew many waterfalls on the way here. ここにくるまでの道のり、滝が沢山